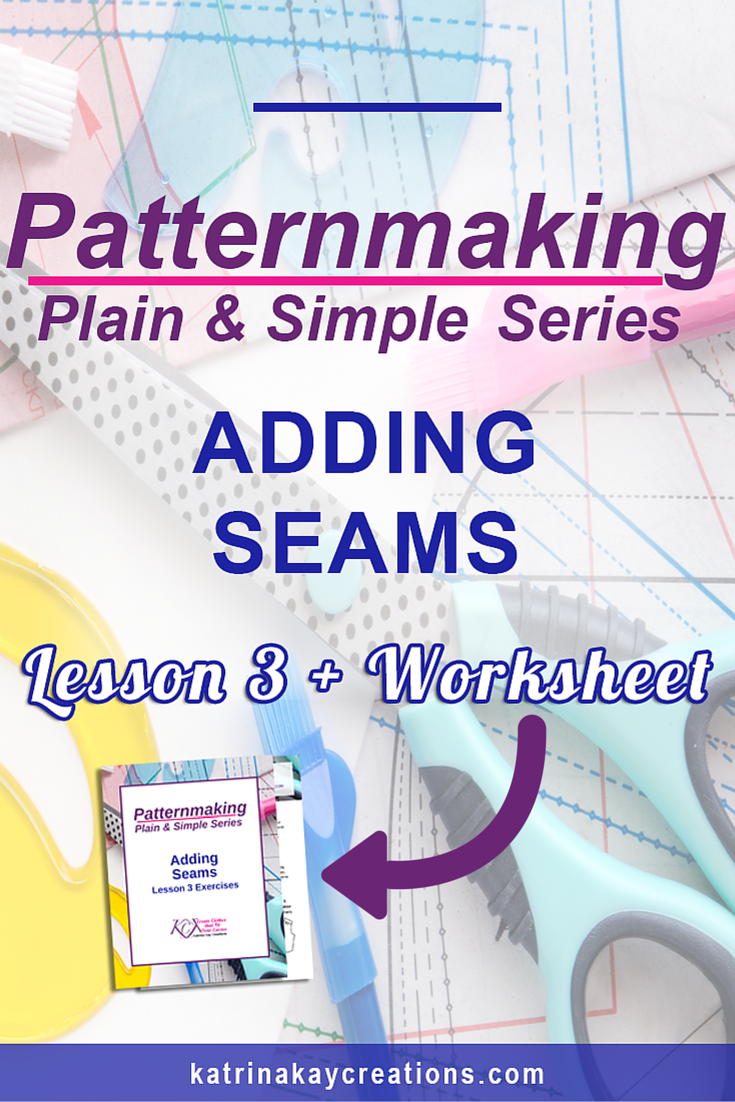 In Lesson 1, we learned how to manipulate or move darts using the Slash/Spread and the Pivot Method. In Lesson 2, we learned how to combine darts to create new designs using the same methods. (If you haven't looked at the tutorials for Lesson 1 and 2, do that now and come back to this lesson.) Not only can you move darts and combine darts to create new styles, but you can also change darts to seams. So in our final lesson today, I'm going to show you how adding seams in patternmaking, in addition to other design features, can be done without being complicated. These seams are also referred to as style lines.
Like Lesson 1 and 2, I've included a worksheet so you can practice what you learn in today's tutorial. So, let's get started!
In patternmaking, you can use darts to create seams or style lines, but you don't always have to. 
Adding seams in patternmaking does not always require you to change a dart into a seam. For this tutorial, we'll simply draw the seam line on our pattern after we close any unnecessary darts.
In this lesson, we're only using the Slash/ Spread Method because the more complicated your design gets, the more confusing it becomes to use the Pivot Method.
Analyze any style you're trying to create from your sloper using the three C's: Compare, Consider and Compose
Compare 
In the design, are the darts the same as your sloper? For example, does it have shoulder darts? Waist darts? Etc.
Consider
If the darts aren't the same, have they:
Been moved and/or closed?
Combined with another dart?
Changed to another design element like pleats, tucks, gathers, seams, etc.?
Keep in mind, it doesn't have to be one or the other, it could be a combination of numbers 1, 2 & 3.
Compose
Now it's time to create a plan of action. Where should you start? What should be done first?
Below is a plan of action for this example. Remember, you're transforming your sloper image into the tutorial image.
1. Close the dart that the new seam line for your yoke will be crossing.
In this example, closing the waist dart actually combines it with the shoulder dart and helps you to draw in a nice, smooth yoke line while getting rid of the waist dart BELOW the yoke line. Remember to tape the lower part of the waist dart closed BELOW the yoke line placement. 
 2. Draw in your seam or style line. 
On our piece the seam line is also our yoke line. Remember to cross mark the placement of your notches so both pieces, the top piece and bottom yoke, will be marked.
3. Cut the pattern apart on the yoke line. 
Because this will be 2 separate pieces and we need to finish the top of the pattern piece – we still don't have our gathers – we need to cut our pattern piece apart on the yoke line.
4. Add additional style features to your pattern piece by moving or closing the dart that remains, when necessary.  
On our piece, we can create our gathers by closing the shoulder dart, which we don't need. This gives us the opportunity to turn the upper part of our waist darts into gathers. 
Your final piece will look like this when finished. On the left I crossed out the lines we no longer need. On the right I've added seam allowance to our piece.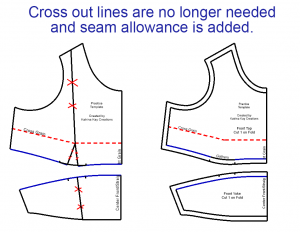 Every style is different, but this gives you a place to start when creating a new design from your sloper.
Be sure to look at the video tutorial to see exactly how I created this style with the pattern template/sloper. And don't forget to download your worksheet so you can practice!
Adding seams in patternmaking isn't a complicated process, especially if you start simple. Will you try this on your own patterns? Let me know in the comments below. 
---