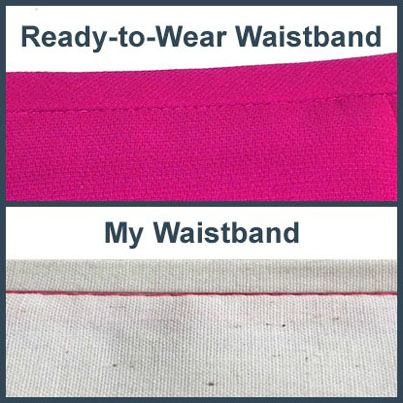 Are you tired of your waistband rolling and wrinkling under your stomach? Well, let me show you how to sew a waistband that will never roll or wrinkle.
Now, if you don't have a muffin top, this may not apply to you. I realize that all plus size women are not going to have this problem.
But if you do, then I believe this waistband will solve your problem, just as it did for me.
Years ago, I bought one of the most comfortable denim skirts I have ever worn. I wore that skirt until I wore it out. The waistband on that skirt was a 1/2″ tall (Is the correct term tall or wide? I'm not sure) and it was soooo comfortable. But, for some reason it never occurred to me to duplicate that waistband on the skirts I sew myself.
A few years later, I bought 3 skirts from Macy's (when their plus size clothes were really nice) by Le Suit and noticed the waistband on every skirt was only 3/8″ tall.
It never rolled or wrinkled and was so comfortable, I decided to make all of my skirts with this waistband.
To create this waistband, you can make an easy adjustment to your
commercial pattern, or create your own waistband pattern (I show you how in the video below) so you can keep your original pattern piece for future use or reference.
This waistband is basically sewn like the traditional waistband, but with minor changes. It can be used on skirts and pants that have a back or side zipper. In the video, I use a skirt as an example.
You can also apply the same idea to a casing (I would make it at least 1/2″ tall and use 3/8″ elastic) for an elastic waist.
Let me know in the comments what adjustments you've made to your patterns to accommodate your curves and make your clothes more comfortable.