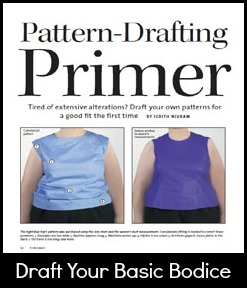 Update July 6, 2018: This is no longer a free resource. It now requires a paid subscription to Threads Insider. 
Have you ever tried to draft your own custom plus size top pattern but couldn't find a book or article that used a real body or a plus size body with real fitting challenges?
I've seen many books, articles and tutorials give instruction on how to draft your custom top pattern, but this Threads Magazine article by Judith Neukam does something that none of the others have done.
They use a plus size woman.
That's right. Instead of a size 8 or 10 dress form, or a perfectly proportioned plus size dress form, she uses not only a plus size woman, but a woman with real fitting challenges. Hallelujah! 
Judith Neukam's plus size woman has fitting challenges that I'm sure many woman can identify with but no commercial pattern is going to address.
She identifies the fitting challenges from the commercial pattern (on the left) and shows the result of the customized pattern she drafted (on the right).
Look at the video below for a brief look inside.

You can find the article here on Threads Magazine's Web site. Just scroll down below their video and you'll see the link to download the free article.
Judith suggests that it's easier for you to do the actual drafting rather than just reading all the instructions first.
Do you have a resource to draft custom patterns that you use? Do share!