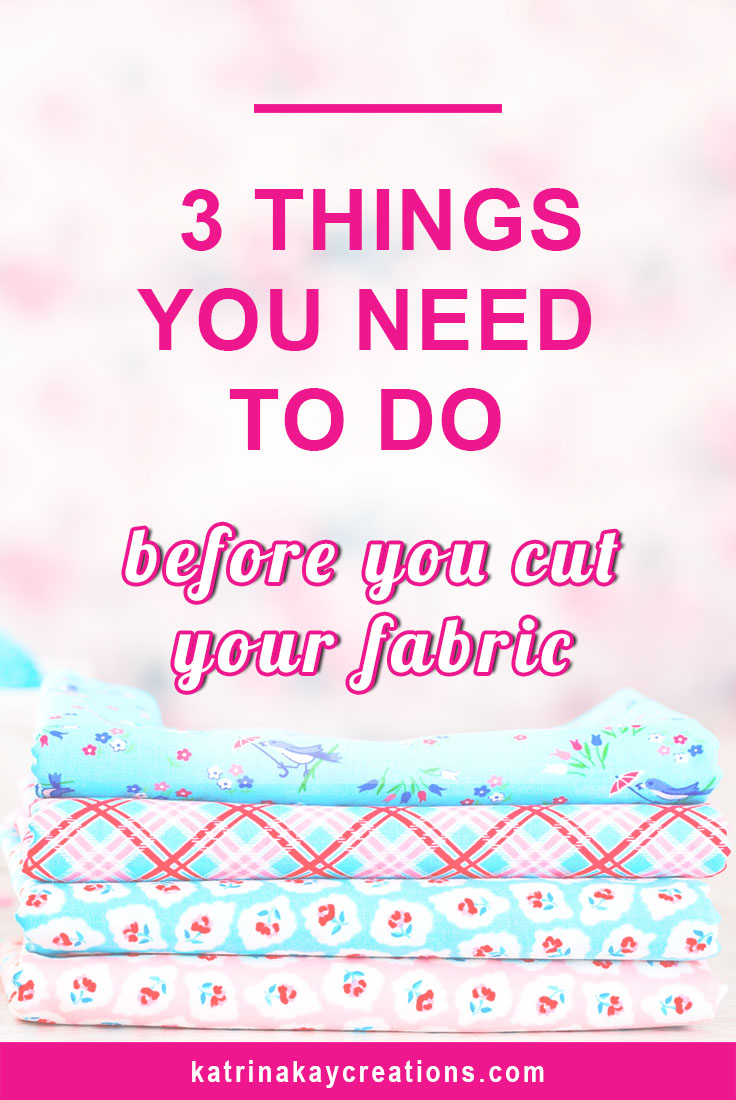 Sewing a beautifully handmade garment doesn't start with the sewing. We know that the fabric we choose has to work with the pattern, or our garment will look homemade from the start. But after you choose the right pattern and fabric, preparing the fabric for cutting needs to take place. Today, I'm going to talk about 3 things you should do to before you cut your fabric. And in this post, I'm referring to woven fabric, not knits.
1. Wash/Dry Clean Before You Cut Your Fabric
Washing your fabric before you cut ensures that shrinkage will happen before you cut out your garment or sewing project.
This is especially important for garments. Imagine spending all that time altering your pattern to fit your curves, making a muslin (or 2) perfecting the fit, sitting at your sewing machine for hours sewing your garment, finishing and wearing your garment, then washing it for the first time and IT SHRINKS!!! The next time you try to wear it, it's too tight – like no wearing ease in it at all. You have to suck it in, lay on your bed and pray just to get it on. Until you accept that it is now too small.
Pre-washing your fabric could have saved you the heartbreak of only being able to wear your garment once, after putting all that time and energy into creating it.
If your fabric is dry clean only, then it's important that you take it to a reputable dry cleaner. I try to avoid the "We clean everything for $1.99" places because not only have I heard, but I've also seen the damage some of them do to garments. You don't want a dry cleaner to damage your fabric, even if you haven't yet put the time in making anything. That's your money down the drain, especially if they refuse to reimburse you.
I can't express enough how important this step is. Preparing your fabric before you cut is the first step to ensuring that your garment or sewing project does not look homemade. So make sure you follow the care instructions provided by the manufacturer of your fabric.
Exceptions to cleaning your fabric or using the manufacturer's care instructions:
Changing the fabric texture for a creative effect. An example of this is washing wool, which is usually dry cleaned, for a felted look.
Using fabric that has been pre-shrunk or isn't in danger of shrinking. For example, I've worked with both satin and velvet and neither required dry cleaning before using.
Using a muslin for fitting purposes only. If you've decided you'll only be wearing your muslin for fittings, no pre-cleaning is necessary.
Some people use a less expensive fashion fabric instead of cotton muslin so that if their muslin fits or requires simple alterations, they'll have a wearable garment as a result. In this case, depending on the fabric, you may have to pre-clean/shrink it.
Fabric Care Instructions
Fabric care instructions are found on the end of your fabric bolt. I usually take a small notebook with me when I go fabric shopping so I can record the care instructions. Or I take a photo with my cell phone, making sure to get a little of the fabric in the picture so I'll know which fabric the care instructions belong to.
Even if you're only buying one fabric, don't try to commit the care instructions to memory. It never hurts to record it in case your memory fails you. (Mine often does.)
Following the care instructions is to your advantage because the manufacturer has given you the best way to care for your fabric so that you will get the most use out of it without it being damaged or looking worn and old after only a couple of washes or dry cleanings.
 Fabric Remnants
Every time I go to the fabric store, I never leave without checking the remnant tables for fabric jewels at a sale price. The problem with remnants is they may not be on their original bolt. This means the care instructions (if there are any) may not be for the remnant. Or the remnant may not be on a bolt at all. It may just be folded on the table.
This is also the case at warehouses where the fabric is on a long roll rather than a bolt.
Unless it's a fabric you're familiar with, you either have to do a burn test to find out the fiber content, test a 4-6 inch square of it in the wash or dry clean it and hope for the best. The last time I did a burn test on fibers was in college so I don't remember the process, but I'm sure there is information out there.
Preshrunk Fabric
If the fabric is preshrunk, that information will be on the end of the fabric bolt as well. In that case, there's no need to wash or dry clean it first.
If your fabric is machine washable and you want to test it to make sure it was preshrunk or if you've had it so long you can't remember if you washed it, cut a 4-6 inch square and wash and dry it with the appropriate load of laundry. Once it's dry, measure to see if it measures the same or is smaller. If it's smaller, you know the rest of the fabric needs to be washed.
2. Press Your Fabric After Washing
You should never cut wrinkled fabric. It doesn't matter how much you "hand press" it as you're laying the pieces. Take the extra time (I know it's a pain) and you won't be sorry. Not pressing it can result in things being too short, too long or worse – too small! When sewing, this will cause more headaches than it's worth.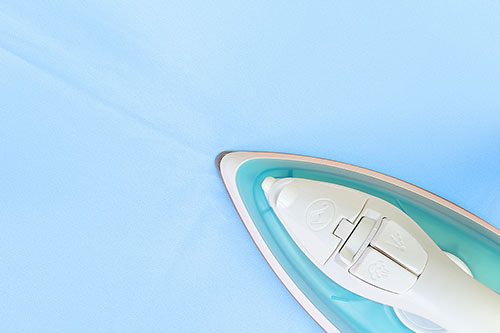 As a side note, make sure you press your pattern pieces also. They can be pressed on a very low heat without being damaged.
Quick tip: to avoid as many wrinkles as possible, remove your fabric from the washer and dryer immediately after they stop. In most cases, the bad wrinkles happen when the fabric sits in the washer and dryer for a long period of time.
If you're fabric was dry cleaned, they'll press it for you. You may have to press out a wrinkle or 2 caused by it being on the hanger.
3. Make Sure Your Fabric Is On Grain 
Before I get into the fabric grain, let's look at some of the terminology when it comes to fabric.
Terminology
Here are a few terms you need to familiarize yourself with when it comes to fabric:
Straight Grain: refers to the threads that run the length of the fabric (referred to as warp threads and are the longest threads) and parallel to the selvage.
Cross Grain: refers to the threads that run the width of the fabric (referred to as weft threads and are the shorter threads) and perpendicular to the selvage.
Bias Grain: 45 degree angle to the straight and cross grain. Woven fabric stretches on the bias.
Selvage: the self-finished edge of the fabric, which is done by the manufacturer to stop it from unravelling. Some fabrics have fraying after the self-finished edge, but the self-finished edge keeps the fraying in that area so it doesn't affect the rest of your fabric. The selvage is on each side of the fabric length when it is unfolded.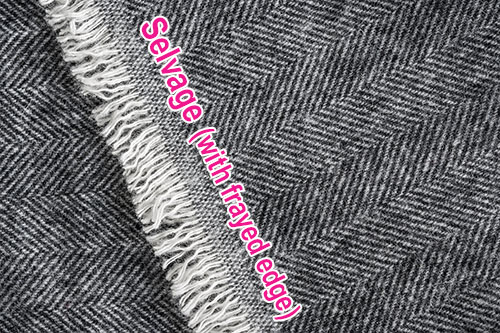 Cut Edge: the edge that was cut to separate your yardage from the rest of the fabric yardage on the bolt. I know this is pretty obvious, but included it just in case.
Now, check out the diagram below to see what the above terminology has to do with your fabric.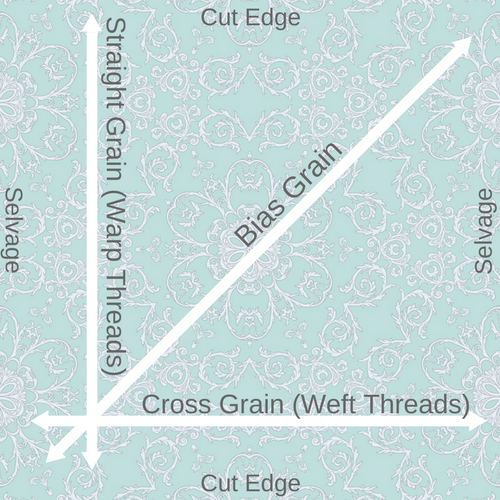 Fabric Grain
The fabric grain is important because it determines how your garment should be cut and whether or not your garment will hang correctly on your body after it's sewn.
Fabric grain is straight when the cross grain is at a right angle to the straight grain.
What does this look like? When your fabric is folded in half lengthwise, selvage to selvage and cut edges matching, there should be no diagonal wrinkles across your fabric. You should also have a lengthwise fold that is straight and lies flat and is not twisted or wrinkled.
If the only way your fabric lays flat and is wrinkle free is when the cut edges are uneven, then your fabric may be off grain. You can see what I mean in the photo below.
If I were to fold this fabric selvage to selvage, but with the cut edges together, the fabric would not lay flat but have wrinkles and a twisted fold.
But don't worry, this can be fixed.
The way you do this is by making a cut a little past the selvage (see above), taking a crosswise thread and pulling it until it gathers the fabric. Your goal is to push the gathers until you reach the other side/selvage of the fabric.
Continue to push the gathers as far as you can until you get to the other side/selvage or until the thread breaks.
If the thread breaks, smooth out the gathers and cut on the fine line it creates in your fabric. When you get to the end of that fine line, pull a new thread, gather the fabric more and repeat the process.
Once this is done, fold your fabric matching selvages and cut edges. If it lays smoothly and your cut edges are even, then you're ready to lay out your pattern and cut.
But if your cut edges are still uneven, like mine below, you can stretch your fabric on the bias grain to correct it.
You can do this solo or you can get someone to help you if you have a lot of yardage. If you have someone helping you, you hold one corner of the fabric and have your helper hold the opposite corner of fabric diagonally across from you and both of you gently pull.
If you're stretching on the bias solo, grab one end of the fabric and pull on the bias with your other hand.
Lay your fabric matching selvages and cut edges to check the grain again. If needed, continue stretching.
If your fabric is printed, be sure not to stretch it too much or you can stretch your printed design out of shape.
As you can see in the photo below, stretching my fabric did the trick.
When you do these 3 things to prepare your fabric for cutting, you're getting off to a great start in sewing a garment that doesn't look homemade.
Pre-wash or dry clean your fabric
Press your fabric after cleaning
Make sure your fabric is on grain
Are there any other things you do to prepare your fabric for cutting? Share in the comments below.
---