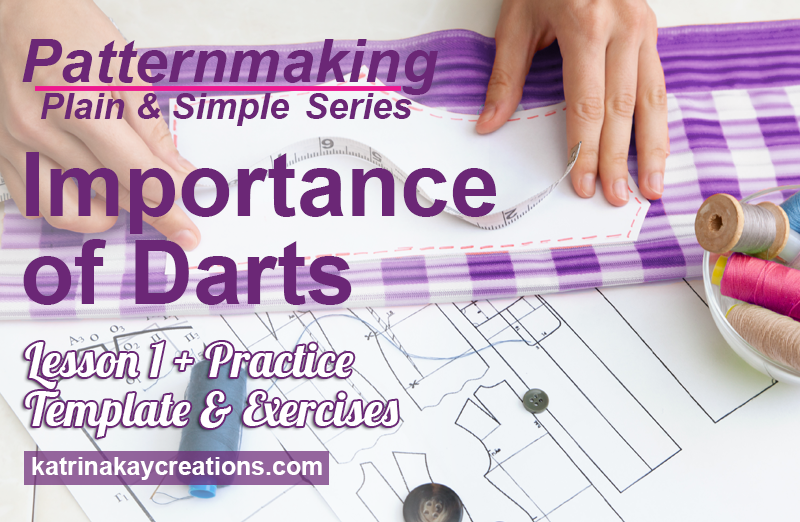 The thought of making your own patterns can be daunting. After all, it looks complicated at times. I remember wanting to learn patternmaking so bad, before so much information was available on the Internet. Actually, before the Internet existed. (How did we ever live without it?) I knew one person who knew how to make patterns and I was willing to pay for lessons, but getting her to share her knowledge was like pulling teeth. So I decided to go to school because I knew learning to make my own patterns would give me the freedom to make any type of garment I could dream of. And guess what I found out?
No matter how complicated something looks, if you have the desire to learn it, you can. You just need to start at the beginning.
That's it. Don't start from the middle or from the most complicated area. Learn the foundation first, then build from there. That's exactly what I want to do today in this first lesson (there will be a total of 3 lessons) of patternmaking, where I'll be talking about and showing you the importance of darts.
Keep in mind, I will not be talking about fitting your curves in these patternmaking lessons. That comes after we understand the basics. Why? Because fitting can make everything complicated. Fitting can cause you to get stuck in one place, and if you're anything like me, you won't move forward until you figure it out. No, my friend, I'm going to teach you the same way I learned when I attended the Art Institute. They laid the foundation by teaching me the basics and each new patternmaking class added to that foundation.
Why are darts important?
We use darts to fit fabric to our bodies. Think about it, without darts, our clothes would be like cylinders of fabric around our bodies just laying there. Or we would still be dressing like those in ancient Rome, in a toga. While there's nothing wrong with draped clothing, sometimes you just want something that fits with a little less fabric.
That's where darts come in. Those triangular shaped do-dads that are oh so very important in patternmaking. When you understand the role of darts, you will have laid a strong foundation in patternmaking. You will have started at the beginning and you'll be ready to build from there.
Every garment ever made is made from a pattern. Every pattern is made from a sloper, which is a basic pattern made using a set of custom measurements. Those measurements can come from a person's body or a dress form. The sloper is your "template", so to speak, that you use to create various pattern styles and the designs you want. In most cases, the sloper has at least one dart. The example I'm using in this lesson has 2 darts, a shoulder dart and a waist dart.
The darts in a sloper can be manipulated. In other words, darts can be moved or changed to create a new style or design. Darts can remain as darts, or used to create pleats, tucks, gathers and even seams. Darts are a major part of changing a pattern from a basic sloper to a totally different design or style.
Darts can be manipulated or moved using 2 methods:
1. The Slash/Spread Method
2. The Pivot Method
With the Slash/Spread Method, you slash or cut the pattern and spread or move a small section of the pattern to close one dart and create a new one.
With the Pivot Method, there is no cutting of the actual pattern involved. Instead, you trace the pattern and close one dart to create a new one by pivoting the pattern clockwise or counter clockwise.
In the video below, I'm going to show you both methods. You may favor one over the other, but it's good to know how to use both methods.
After you watch the video, I want you to practice what you've learned. In patternmaking, the best way to learn is by doing. I created a Worksheet so you can practice the slash/spread & pivot methods yourself on 3 homework exercises and a Practice Template to use as your sloper. Once you're done with the exercises, you can check your patterns with my video answers in tutorial format.
With the  Practice Template, you can print as many as you need to practice on. It is half scale so it'll fit on 1 sheet of paper, and it does not have any seam allowances.
When figuring out how to change your practice template to look like the exercises, ask yourself this question: "Where are the darts?" From there you can determine which dart was moved (manipulated) and where it was moved to. Don't forget, it's all about the darts!
Once you've done the exercises using the slash/spread method & the pivot method, go to the video answer key to check your patterns.
When it comes to patternmaking, are you at the beginner, intermediate or advanced level? Let me know in the comments.
---