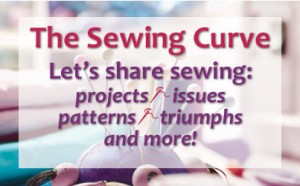 At the suggestion of one of my readers, (Jo Anna, thanks again), I've started a new Facebook group called The Sewing Curve. In fact, Jo Anna also came up with the name, which I think is perfect for this group (women with curves, who sew, get it?). I really wanted to start a Facebook group, and I'm not sure what I was waiting for. Sometimes, you just have to stop waiting for things to be perfect and just do it. So here it is.
The Sewing Curve is a place for us to share the projects we're working on or finished, our fitting issues, the sewing patterns we love, our sewing triumphs and anything else you'd like to share as it relates to sewing, patternmaking, plus size fashion, etc.
If you have questions, The Sewing Curve is a good place to ask them because there might be someone in the group that has the answer. I'll also be visiting the group everyday and giving my 2 cents :-).
To Join the Group
Click here to go to the group page
Click "join group" at the top of the page, right under the cover image
I'll add you to the group as soon as I'm notified you want to join
You're in! It's that simple
So, head on over there now and I'll see you there!