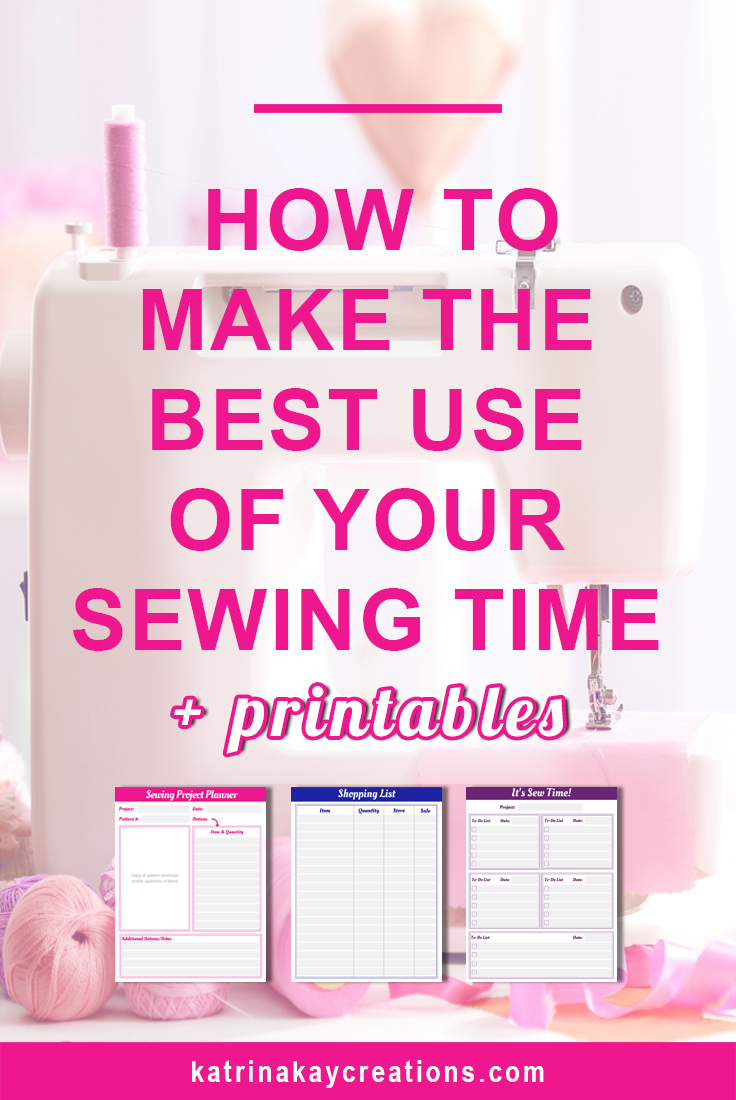 It's hard to find time to sew. If you're like me you could sew all day, every day. Or at least every other day. But that crazy thing called life just won't let you. Our daily responsibilities demand our attention and time. So when we do get that special time to sew, we want it to last much longer than it usually does. I can't show you how to get more time to sew because I know nothing about your lifestyle or responsibilities. But today, I'm going to show you 2 ways to make the best use of your sewing time to get the most done in the time you have.
How to make the best use of your sewing time:
1. Make A Plan
One way to make sure you use your sewing time wisely is to make a plan. Planning your shopping list, your shopping trip and your actual sewing time will help you remember the items you need for your sewing project and avoid wasting time and gas to go back to the store.
Make A Shopping List
Before you make a shopping list, decide the following:
What you're going to sew
The sewing pattern(s) you'll need
What kind of fabric you already have and/or have to get
What notions you already have and/or have to get
If you'll buy online or at the fabric store
I don't encourage working on too many projects at one time because unfinished projects can pile up. But if you're making an outfit of more than one piece, such as a blouse and skirt, planning for both pieces makes sense. This also works for making more than one garment from the same pattern. Planning and working on an entire outfit or at least 2 sewing projects at a time is a good thing to do for 2 reasons:
You save time by getting everything you need in one shopping trip.
If you get frustrated with one sewing project and need to step away from it, you can go to your second project and still get your sewing therapy. Sewing is therapy for you too, right?
Once all these decisions are made, you're ready to make your shopping list. Write down the items you need, how much or how many you need and what store to get them from.  
Whether you're shopping online or at the fabric store, make a note of the coupons you have. This is also a good time to get your coupons together by downloading them or cutting them out. Or use an app for the stores that have that option and you'll have your coupons at your fingertips.
Keep like items together on your list, like fabric and interfacing, so when you're in that area of the store you won't forget anything.
Plan Your Shopping Trips 
Getting everything you need in one shopping trip will save you loads of time. It may also save you money if you catch a really good sale. Again, to avoid piling up a bunch of unfinished projects, shop for at least 2 projects at a time and don't start anthing else until those projects are finished.
Shopping with a list helps you avoid having to run back to the store in the middle of your project for a forgotten item. Having a plan might help you avoid impulse buying, but I can't promise that. That hasn't worked for me yet, with or without a list. 🙂
Quick Tip: Take a picture of the care instructions at the end of the fabric bolt with your smart phone so you'll know how to prep your fabric before cutting and how to take care of your projects after they're made. Or you can write everything down in a small notebook. 
Plan Your Actual Sewing Time
You've bought all your fabric, patterns and notions. Now it's time to make a plan of action to get your sewing projects done.
Writing down what you want or need to get done in each of your sewing sessions will really help you stay focused. Just get the plan out of your head because our memories aren't reliable. Putting everything on paper (whether you use pen & paper or computer) gives you a visual roadmap to use each time you sew. You'll also know exactly what you have to do right away instead of spending precious time remembering where you left off and deciding where to start.
To help you plan your sewing projects, shopping list and sewing time, I created 3 free printables for you. To get access to them, click the button below. If you're already a subscriber, get access by going to my free sewing library (check your email for the link and password).
I don't know about you but when I'm able to check or cross something off my to-do list, it motivates me. When you can see yourself making progress with your sewing projects, you'll be motivated too.
2. Group Like Sewing Tasks Together
Grouping tasks that are alike or related can save you precious sewing time. This is exactly what we did when we made our shopping lists and on our shopping trip. Remember, we're talking about the 2 projects you just went shopping for. We're going to group together all like tasks for those 2 sewing projects.
I recently read an article that said your brain likes to do repetitive activities instead of multitasking. The less time your brain has to spend readjusting to a different task, the more you'll get done. You'll save a lot of time if you don't go back and forth between tasks. Below you'll find some sewing tasks you can group together.
Pattern Tracing
Today, we're not limited to buying sewing patterns from the major commercial pattern companies. We can now buy patterns online and download them instantly. But as curvy women, the possibility of having to alter the pattern is great. So, whether you need to trace your commercial pattern to save the original or whether you're tracing a pattern you downloaded from the Internet, it can be a tedious task.
If tracing patterns is definitely on your to-do list, why not do them all in your first or first few sewing sessions? In the future you'll be able to go from project to project without having to stop and trace patterns each time. What you do in the beginning will have its benefits in the long run.
There's another benefit to tracing 2 or more of your patterns at once. Have you ever put off starting a sewing project because you didn't feel like tracing the pattern? You just wanted to get to the sewing but you knew there's no way to get around tracing your pattern so you procrastinated. Imagine how motivated you'll be when you remember that you already did the tracing.
Pattern Alterations
Yes, most of us hate to do them, but pattern alterations are necessary. The good news is, if you're using the same pattern for 2 or more projects, you'll only have to do pattern alterations once.
But even if you're using different patterns for each project, do all your pattern alterations while you're in the "zone" or mood to do them. Usually the hardest part of doing something is getting started. So once you start altering pattern pieces, if time permits, move to the next pattern that needs altering.
If you don't finish your alteration in one sewing session, you know where you need pick up the next time, right? No, not with cutting, with pattern alterations. Smarty pants. 😛 That way, once they're done, you can move on to cutting for each project.
Fabric Preparation
Remember my quick tip about care instructions above? (You can find them under "Plan Your Shopping Trips".) You need the fabric care instructions to prepare your fabric before cutting.
Because some fabrics may shrink after washing, they need to washed and pressed before you cut them. This applies to dry clean only fabrics also. Dry cleaning your fabric will cost a little extra, but it's better than having a finished project you can't use after the first cleaning.
Depending on the amount of fabric you have, you can wash like colors together. If you have a lot of yardage, you may want to wash 1 fabric at a time. I suggest you choose a fabric laundry day and get it all done. Then your fabric is ready for you whenever you can fit in sewing time.
Cutting
Do the cutting of all your projects before you start sewing anything. Remember, we're working on at least 2 projects at a time. I know you're ready to sew already, but think of how good you'll feel when both projects are cut and ready for you to sew.
If you're making the same skirt in 2 different colors, using the same pattern layout and your fabric isn't too thick or slippery, you can cut both at the same time. You'll definitely need a really good pair of sewing scissors, though. And be careful to line up your center fold and selvages. If the selvages of 1 fabric overlap the other, put that one on the bottom to make sure your pattern pieces aren't too close to the edge.
Pattern Marking
If you cut out 2 or more of your sewing projects as a group task, then it only makes sense to do all your pattern marking as a group task as well. You already know this is a step you should never skip because you need those markings as you sew. So pull out that tracing paper and mark away!
Sewing & Pressing 
How do you sew 2 or more projects without having to continuously change your thread color? You work on 1 project at a time and sew as much as you can before you have to press your seams. Then you change your thread for the next project, and do the same.
You could also use a nuetral colored thread for both projects, but that's really up to you to decide if that's the best thing to do for your projects.
If you've read any of my other blog posts, especially the post on sewing mistakes that make your clothes look homemade or mistakes that sewing beginners make, you know how much emphasis I put on pressing as you sew. But that doesn't mean you have to sew one seam, then immediatelay press that one seam. It means that you should never join one seam to another without pressing them first. In other words, my neck facing should never be joined to my neckline until after the shoulder seams on my garment and the shoulder seams on the facing have been pressed.
So to group my sewing together I can sew all of my individual seams and then take all of them to the ironing board and press them. For example, to make a basic tunic that has bust darts, I would do the following:
Sew all the darts
Sew the tunic shoulder seams
Sew the neck facing shoulder seams
Sew the sleeve seams
Press all the darts and seams I've just sewn
Sew the neck facing to my neckline
Understitich the neckline
Sew the side seams together
Press the neckline and side seams
Press in the tunic hem and the sleeve hem
Sew the sleeves to the armholes….
Sew, sew, sew, sew, press. Sew, understitch, sew, press. You get the picture? It's not – sew, press, sew, press, sew, press, etc.
Do this for your first project, then go the next. Or you can do the first set of sewing for both projects and press everything at once. You decide what method works best for you.
Grouping sewing tasks together will work on sewing test muslins and sewing the final project. For the muslin, you wouldn't need the waistband or to do any hemming, so they're even faster to sew.
At the end of a few sewing sessions you can make a lot of progress, depending on what your time permits. This is not a race to the finish. It's about using our sewing time wisely and getting to the finish in the most efficient way.
Quick Tip – when sewing, don't cut the thread ends after you sew each piece. Instead, make a chain of pieces before cutting your thread ends. Then cut them apart before or after you take your pieces to the ironing board.
Fittings
Using our example above, I would sew both projects to the point of being able to try them on. So you can even group your fittings together to save time. Making any needed changes to both projects and re-fitting will also save you time.
What to do at the end of your sewing time:
Allow 15 minutes at the end of your sewing time to do the following:
Plan Your Next Sewing Session
Write down the sewing tasks you want to accomplish in your next session
Make a list of everything you need to do to accomplish those tasks
Schedule your next sewing session by putting it on your calendar. Schedule it even if you have to change it later. Make an appointment with yourself to avoid scheduling anything else at that time.
Clean Up
Put your sewing tools back in place so you won't have to look for them the next time you sew
Fold and store any additional fabric
Store fabric scraps you've decided to keep
Clean sewing station, cutting table and ironing board
Sweep/Vacuum the floor
Do any additional clean up needed
Set up your sewing area or room for your next sewing session
Sewing Tool Maintenance
Get your sewing machine serviced or your scissors sharpened between your sewing sessions. Keep a record of when your machine was last serviced and your scissors were last sharpened so you can be strategic in scheduling your sewing time.
I really hope I've given you some new ideas to help you make the best use of your sewing time. I'm reminded of an old saying, "If you fail to plan, you plan to fail." 
Planning may seem like a lot to do before you can actually get to the sewing you enjoy. But if planning everything out will give you more time to sew and help you finish every project you start, it's worth it, right?
Dont't forget to get your free Sewing Project Planner, Shopping List and Sewing Time Planner by clicking the button below.
Are there things you do that help you make the best use of your sewing time? Share them with us in the comments.
---