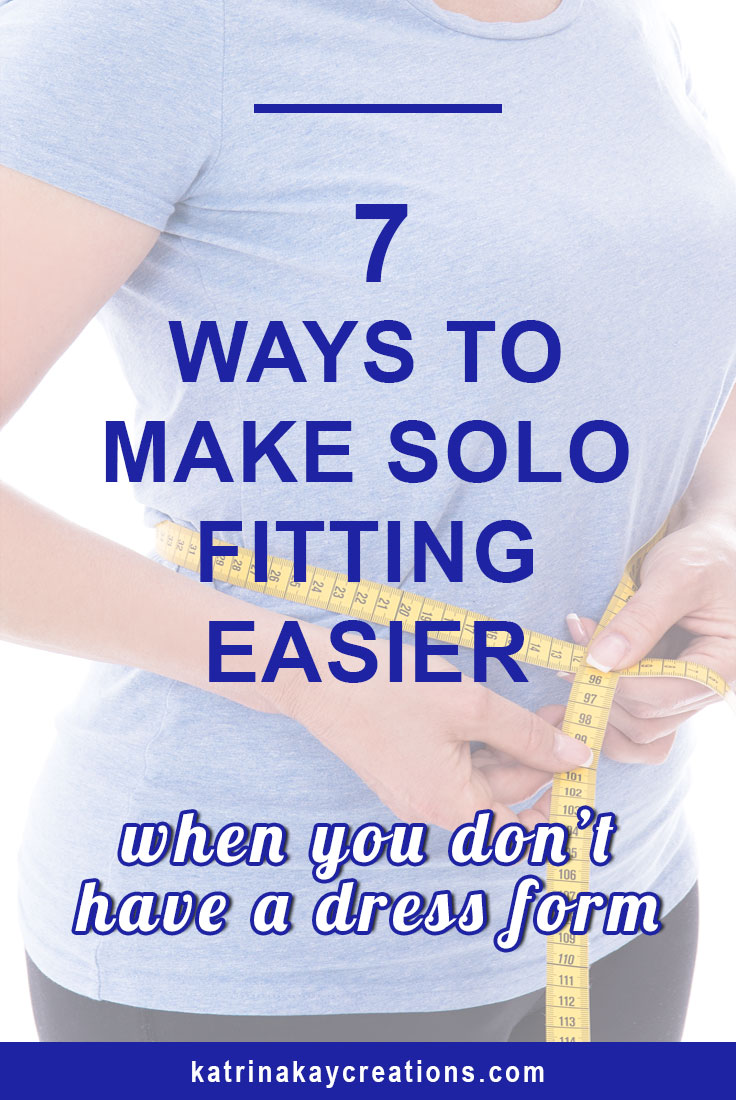 One of my readers asked this question: "How can I fit my clothes without a dress form?" A good question, without a perfect answer. But today I hope I can help you a little bit by giving you 7 ways to make solo fitting easier.
Does anyone else have the problem of fitting patterns solo? By solo I mean: You live alone and don't have friends who can help you or you would be comfortable with helping you. Even creating your own dress form requires a partner to wrap you in duct tape and that partner needs to be someone you're comfortable with and someone who can take instruction well. So, it's just you in your muslin standing in front of the mirror with a very limited view of your back. Or trying to reach places that you'll never reach because your arms weren't designed to bend that way. 
Here are 7 things I do when solo fitting.
1. Put the opening in the front.
For tops with openings in the back, put the opening in the front for muslin fitting. Putting your opening in the front, (for fitting purposes only), allows you to pin it closed without any assistance when trying on your garment. Mark the stitching line in the opening with a machine basting stitch so you'll know exactly where it needs to be pinned. When fitting your own body, these little things help.
2. Make the seam allowance for the opening 1″ wide.
Again, this is only to fit your muslin, not for the final garment and this works great with step 1 above. It's much easier to overlap and pin closed a 1" seam allowance than a 5/8" or smaller seam allowance.
3. Mark fitting/style lines on the right side of your muslin.
Mark your bust, waist and hip line and any necessary style lines with a tracing wheel and tracing paper, or the marking tool of your choice. (Hopefully you have these lines already drawn on your pattern. If not, mark your pattern before you cut out your muslin).
Be sure to mark on the right side of your muslin so you can see your markings when you try on your garment. That way, you can tell at a glance whether these lines are in the right location on your body. If they need to be changed, you can mark the right placement on your muslin and easily measure the distance between the two.
If you fit your muslin by turning it inside out, then you can mark it on the wrong side so you can see the markings.
Not sure which side you're going to fit your muslin on? Mark both sides. Then whatever you decide, you'll be able to see the markings you need.
4. Use more than one mirror.
Use a hand held mirror and stand with your back to a bathroom mirror to get a close-up view of how your back, neck and shoulders fit . Try to keep the arm attached to the hand holding the mirror as close to your body as possible to get an accurate view of how your neck and shoulders fit.
Use a hand held mirror and full length mirror to get a full back view of your garment.
5. Put in the zipper.
For garments that require zipper closures, put them in your muslin. It doesn't have to be a perfect application. And the application doesn't have to be the same required by your pattern. You can just quickly machine baste down each side of your zipper without worrying about how neat the stitching is. Remember, this is for fitting purposes only.
This works very well on skirts because their opening is usually on the side or in the back and pinning it closed isn't easy. I've stuck myself with pins many times trying to do this.
Use a basting stitch so it's easy to take the zipper out of your muslin after fitting. Once the fit of your muslin has been perfected to your liking, you can reuse your zipper for future muslins or put it in your final garment.
6. Eliminate hem allowances on your muslin.
This applies to skirt, dress, pants and sleeve hems. Mark you hemline on your muslin fabric and cut on that line. Your muslin will end at the finished length and you can save the extra step of turning, pressing and stitching in your hem, while still knowing if your garment is too short, too long or exactly where you want it.
7. Keep a record of all changes made to your pattern and muslin.
You never know when you're going to have to refer to the previous changes you made to your muslin, especially if a length of time passes between fittings. We all have busy lives and sometimes we just don't have the time to work on or get back to a project right away. With a written record of your muslin/pattern changes, you'll easily be able to pick up where you left off.
This is really good for when you have multiple muslins and patterns for the same garment. You'll know which is the final pattern or muslin and you can get rid of the rest.
Do you have a way that you make your solo fitting easier? Share it in the comments.
---