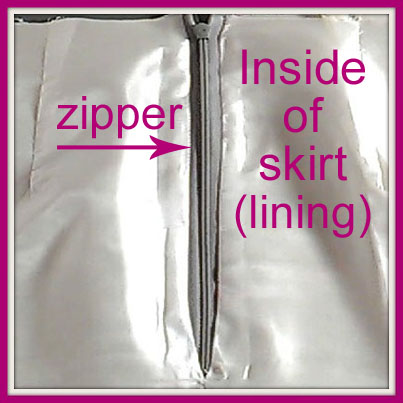 Have you ever wondered how to sew your skirt lining to your zipper by sewing machine instead of by hand?
Every ready-to-wear skirt I have ever purchased has the skirt lining sewn to the zipper by sewing machine. But when you purchase commercial patterns, the instructions tell you to sew the skirt lining to your zipper by hand.
Now, I don't have a problem with hand stitching-I still hem my skirts by hand, even though I have a blind hemmer (that's another story). But I like hand stitching only when it's necessary or when I can't get the same quality by machine stitching.
I was taught in my sewing class in college that the inside of your garment
should look just as good as the outside of your garment.
I like to copy ready-to-wear techniques because they look good on the outside/inside of the garment and I know they do things in the most efficient way possible. Their time is money, after all. I also know if it doesn't require a special sewing machine, it can be duplicated.
So if the manufacturer can do it, why can't you or I?
Sewing your skirt lining to your zipper by sewing machine is really not complicated. You may or may not have to use your zipper foot depending on your sewing machine. With my machine I'm able to use my all purpose foot.
If you have any questions, leave them in the comments below.
Have you ever attached your lining to your zipper this way? Which way do you prefer?