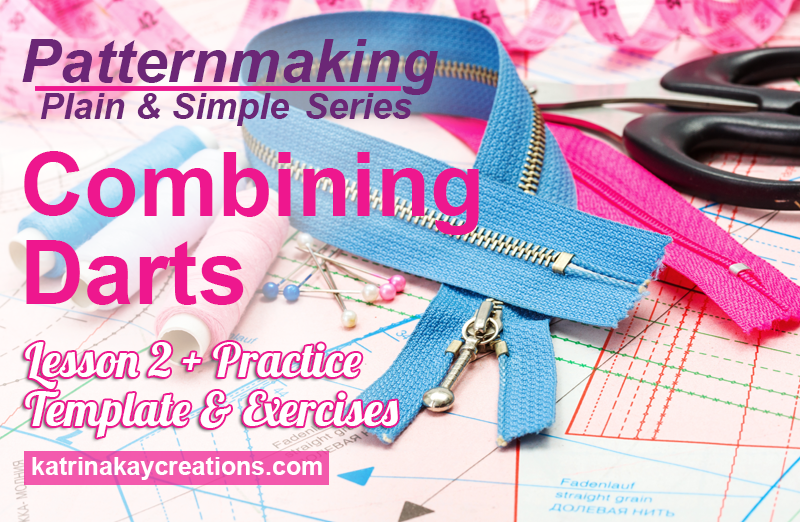 In Lesson 1, I talked about the importance of darts when making your own patterns and I showed you how to manipulate or move darts using 2 methods – the Slash/Spread Method and the Pivot Method. (If you haven't looked at the tutorial for Lesson 1 and done the work, I suggest you do that now or you may not fully understand Lesson 2.) Not only can you move darts to create new styles and designs, you can also combine them with other darts. Today in Lesson 2, I'm going to show you how to combine one dart with another dart and also turn them into something totally different.
Again, keep in mind, we're not dealing with any fitting issues. We're just going over the very basics of patternmaking without anything to make it complicated.
**Note: If you already signed up for the Worksheet, Pattern Template and Video Tutorial in Lesson 1, then Lesson 2 will be automatically emailed to you. There's no need to sign up again. If Lesson 2 is not in your inbox, please email me: [email protected]
Combining Darts 
There's no rule that says you have to have a shoulder dart, waist dart or any dart. Maybe the look you're going for doesn't require a dart at the shoulder, etc. That's the thing about darts, you can keep them, move them, combine them or release them. Make your darts work for you.
We're still using our 2 methods of moving (manipulating) darts:
The Slash/Spread Method
The Pivot Method
In the video below, you're going to learn how to combine the shoulder dart with the waist dart and then change it from a waist dart to a waist tuck. You won't believe how easy it really is. 
Don't forget to download the worksheets and the Practice Template/Sloper and put what you've learned into practice. The worksheet has 3 patternmaking exercises you can try on your own. But don't worry, I don't leave you hanging. There's also an additional video tutorial with the answers to the worksheet exercises. I go over combining darts and changing them to tucks, gathers and pleats.
Remember, if you want to develop your patternmaking skills, you have to learn by doing. Hopefully, this will give you your own ideas to try on your own. Don't just stop at the homework exercises I give you. Come up with some of your own by looking at the drawings on some of your commercial patterns and practice those too. I would love to see what you come up with.
Do you have any questions? Did you find any of the homework exercises more challenging than others? Let me know in the comments below.
---