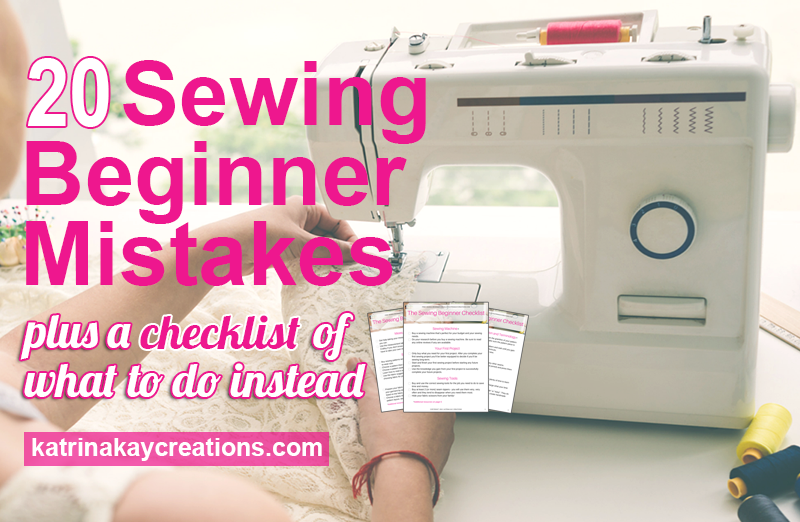 Hello Everyone! In September I went back to the basics of patternmaking with 2 posts on budget-friendly patternmaking tools. This month I want to deal with sewing by helping my sewing friends, who are beginners, avoid some time and money wasting situations. Sewing is one of my favorite things to do, and I want it to be one of yours, too. So today, I'm going to talk about 20 mistakes that sewing beginners make. 
If you've already made some of these mistakes, don't feel bad because I have too. Which is the reason why I can tell you what to avoid. Ha!
Being a newbie or a beginner at anything is never a bad thing because we all have to start at the beginning. None of us were born knowing how to sew. We had to learn, make mistakes, start over and try again. The purpose of this post is to help you avoid the mistakes that don't need to be a part of your sewing experience.
I believe experience is the best teacher, but it doesn't have to be your experience. You can learn from the experience of others. So, let's get to it.
Here are the 20 mistakes sewing beginners make:
1. Buying (or deciding to buy) an expensive sewing machine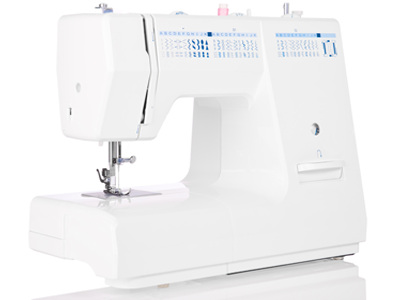 You want the best sewing machine on the market, the one with all the bells and whistles. A computerized sewing machine that can not only handle your beginner projects, but also handle those fancy projects you intend to make in the future. One that can sew, embroider, quilt and has hundreds of decorative stitches. I understand.
But here's the truth. As a sewing beginner, you don't need the Mercedes of sewing machines to learn to sew. You especially don't need to invest thousands of dollars into a sewing machine before even sewing your first project. What if you discover you hate sewing? What if life happens and you have to put learning to sew aside for a while?
Now, I'm not suggesting you buy any old cheap thing. But I do suggest you get a quality sewing machine that fits your budget and your needs. You don't have to spend $1000 to get a quality sewing machine. You need a machine that will meet your needs without overwhelming and bankrupting you. You can always upgrade when your needs and your budget changes.
So, I have 3 resources to help you buy your first sewing machine:
The Best Sewing Machines for Beginners is an article by Christine CYR Clisset that details the results of 18 hours of research she did with her team to find the best sewing machines for beginners. They had 2 popular bloggers with many years of experience sewing clothing and 1 novice to test the sewing machines. And they all cost $300 or less. Isn't that great?
They also mention in the article that they were told by several experts "that in the under $300 range, it's better to go with a manual machine if you want quality." In other words, if you want to buy a sewing machine under $300, to get quality for that price you should buy a manual and not a computerized sewing machine.
The second resource is A Buyer's Guide to Your First Sewing Machine by Manda McGrory. This article gives you 10 things to consider before you buy a sewing machine. The author then gives you her top sewing machine picks for beginners, dressmaking and quilting. She also gives you her choice of the best low-priced computerized sewing machine, and yes, it's under $300. Just a heads up to my US friends, some of the machines she recommends is Euro pricing.
If you like her recommendation or you find a low-priced computerized sewing machine, make sure you read the reviews if they're available. Remember, you also want the best quality you can get for your money.
The third resource is Tips for Buying a Sewing Machine by Christine Haynes on Craftsy. She discusses the key elements to consider when shopping for a sewing machine that's best for you. These key elements are brand, features, price and location. And one suggestion she makes that I love is to give the machine you're interested in buying a test drive. That's the advantage of buying in person instead of online.
2. Starting more than one project at a time
I admit, I'm guilty of this. In fact, I'm guilty of a lot of things on this list that I'm telling you not to do. Let's not call it hypocritical, let's call it speaking from experience. Yes! That sounds so much better.
As a sewing beginner, you might be very excited to get started. You may want to sew, sew and sew some more. But I encourage you to make and finish your first project before starting the next. Why? Because there will be some things you learn to do and learn not to do on your first project that will benefit you on future projects. This will probably happen on a few of your projects. The funny thing is, in sewing, you sometimes learn more from your mistakes than anything else.
The goal is to mess up as little fabric as possible. Also, completing a project is a good motivator to not just start but also finish future projects.
By the way, if you avoid mistake #5, you won't have any fabric to start project 2, 3, and 4. I'm just saying.
3. Using the wrong sewing tools for the job
Sometimes in an effort to save money, we won't buy a specific tool designed to do a specific job. Instead, we'll use what we already have. There's nothing wrong with that if it works. But if it makes things harder to do or makes them take longer, what you saved in money will now cost you in time and effort. In fact, if you mess up a pattern or fabric as a result, you're actually losing money if you have to replace those things.
Using the wrong tools can also make your project look homemade.  I talk about 10 sewing mistakes that make your clothes look homemade in another post, but sewing mistakes can make any project look homemade, whether it's clothes, pillows or a quilt. Using the right tools will help you avoid some mistakes, but also save you time and frustration.
For example, if you have to rip a seam out, you can use scissors instead of a seam ripper. Scissors will get the job done, but a seam ripper will not only do it quicker and better, it'll also prevent the ripping of your fabric while ripping the seam. Scissors won't do that. In fact, you might accidentally cut a hole in your fabric. Not good! Yes, I've done that too.
Here's another example, and this one is so important I have to make it bold: don't use your household scissors that you've used to cut paper, packaging, clothing tags, etc., to cut your fabric. Buy a pair of good scissors to be used for fabric only, and lock them up or put them somewhere so no one in your house can find them.
To the non-sewer, scissors are scissors. They don't understand that you need good, sharp scissors to cut your fabric and that paper and other things will make them dull or possibly damage them. This is going to have to be stressed several times and they still won't understand what the big deal is. So just hide them and save yourself the headache and high blood pressure. Seriously.
4. Taking your own measurements without any knowledge of taking measurements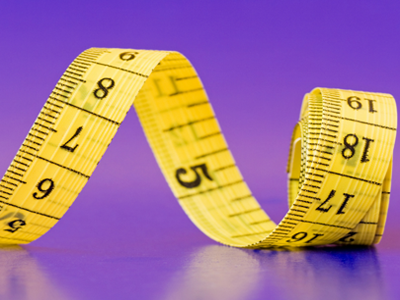 This one is tricky because many of us are flying solo when it comes to sewing. We don't have anyone else in our house, family or among our friends that's familiar with sewing, so we do a lot by ourselves.
Once you become experienced at sewing, you may be able to take some measurements yourself. But as a sewing beginner, I don't recommend it. This is just my personal opinion. Get help from a friend, if you can.
Regardless of whether you can get someone to help you or you have to take your own measurements, make sure you have a guide you can use to do it right. Use this article from Threads Magazine, How to Measure Up. Your measurements will have a much better chance of being accurate.
If you can't be objective, don't take your own measurements. When you see what your measurements are, if you're not happy with them, you might be tempted to make them what you want them to be by pulling that tape measure a little tighter. Or you might "suck it in" to get the measurement you want. Trust me, I've been there. Sometimes we do it without even thinking.
But if someone else takes your measurements, they're not emotionally tied to the outcome. It is what it is. They just want it to be accurate and you need accuracy, not someone else's idea of perfection.
I'm reminded of my first sewing class in college where we were instructed to measure each other. My instructor didn't want anyone taking their own measurements. But there was one young lady in the class that didn't want anyone else to know her measurements and wouldn't let anyone, not even the instructor, take them. She insisted on taking them herself. Because she wasn't happy with the measurements she was getting, she kept retaking them.
She made her first garment, which was a dress, and tried on the muslin. To her surprise, it was too tight. She was able to get it on with a struggle, but she wasn't able to close it. I want you to avoid this frustration because it can be very discouraging.
There are some measurements you can carefully take yourself, especially if you have no other choice, like the bust, waist and hip. I suggest you use a full length mirror to make sure your tape measure is level as it goes around your body. (If you have a tilted waist, then it should follow your waist.) And again, use the Threads Magazine article, How to Measure Up, I mentioned above.
But there are some measurements you'll never be able to take yourself or take accurately, like your center back width or length or your back shoulder slope. Unless you have arms like rubber bands, that is. So, at some point we all need help.
Craftsy, for those of you who don't know, is an online Web site that offers different types of online classes. This includes, but isn't limited to, sewing classes.  They have a new class teaching you how to take your own measurements and how to fit your muslin solo. She may prove me wrong and even show you how to take your own back measurements, too. I hope she does.
This is definitely a class worth taking if you don't have anyone to help you. The name of the class is Fitting Solo: From Measurements to Muslin with Linda Lee. For solo fitting you can also check out my blog post on 7  Ways to Make Solo Fitting Easier.
5. Buying lots of fabric, patterns and notions before you sew your first project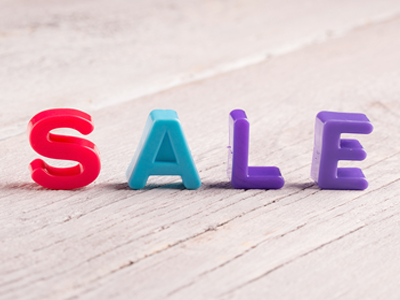 The sales, sales, sales! I know they're hard to resist. Especially when those patterns go on sale for 99 cents. And that fabric is 50% off. Yes, we experienced sewers are guilty. But please don't be like the rest of us with a stash full of patterns and fabric we're going to get to one day. Do what we say, not what we do. I promised myself I would never use that parenting phrase. Oh well, I tried.
I'm a hypocrite in this area, (any experienced sewers reading this, I need you to admit I'm not the only one). But I'm telling you this because I don't want you to waste money as a sewing beginner-especially if you haven't sewn your first project yet. Those sales will come again, I promise. And the good news is, you won't need to reorganize a closet or buy storage containers to store all the extra fabric and patterns.
You may be able to find free patterns online that you can download as a .PDF file. Just make sure they come with instructions so you don't have to spend most of your time figuring things out.
After you sew your first project and you decide sewing is definitely something you're going to do long term, then take advantage of those sales. But be very careful, or you'll have a fabric, pattern and/or notions stash like the rest of us. Don't say I didn't warn you.
6. Buying patterns according to your ready-to-wear size
When I went to the fabric store to buy my first pattern and saw that based on my measurements I would have to buy 2 sizes larger than my ready-to-wear size, I was distraught. "This can't be right", I thought to myself.
The fashion industry and the sewing industry use two different measurement standards. They're not even closely related to each other. If you wear a size 18W in ready-to-wear, don't be alarmed or surprised if you have to buy a larger pattern size based on your measurements. It's not you, it's the industry standards.
I know this is hard, but don't focus on the size at all. Focus on the measurements. They're what's important. I usually buy patterns according to my bust measurement for tops, dresses and jackets. The last thing I want to do is make a full bust adjustment or any kind of bust alteration. That's a headache I definitely don't recommend for a sewing beginner.
For pants and skirts, I buy according to my hip measurement. I've found that it's easier to alter the waist, depending on the pattern design, than the hip. You'll discover what works best for you as you gain sewing experience.
The one thing you don't want to do is buy a pattern size that's too small. Its's always easier to make your pattern smaller by taking it in, than to make it bigger by letting it out.
7. Choosing a pattern that requires major alterations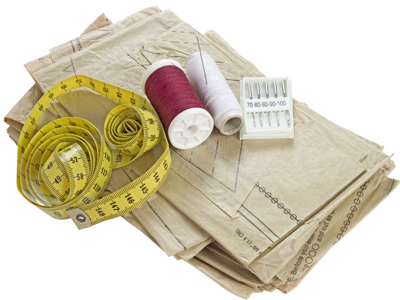 Major alterations are not the friend of a sewing beginner or an experienced sewer, now that I think about it. The last thing you want to do is make major alterations or even lots of small alterations. Alterations can be discouraging to experienced sewers, so please don't do this to yourself.
I always encourage people who have never sewn before to start with something simple, like a pillow, tote bag or scarf. No alterations are required and you get an item you can use in the end. These items are also small projects that won't take you weeks or months to finish, even if you can't sew everyday.
I suggest you ease into altering patterns, even after you've sewn a few simple projects. Unfortunately, if you want to make clothes with a commercial pattern, you're going to have to do some type of alteration. But you don't have to start with something major.
Here are 3 alterations I would definitely stay away from as a sewing beginner:
Bust alterations: increasing bust or cup size is major, usually referred to as full bust adjustment. I try to avoid any alteration that involves the bust because they tend to be the most complicated.
Re-sizing your pattern to a size that's

not

already included in your pattern: referred to as grading. Whether grading up to a larger size or grading down to a smaller size, this can get very complicated.
Redesigning a pattern or combining 2 different patterns. For example, using the top of a dress from 1 pattern and the bottom of a dress from another.
There may be other alterations that I don't think are major, but you may consider major, and vice versa. If alterations will take the joy out of sewing for you, don't rush into them. If you love a challenge and think you can handle it, it's up to you. You know what you can handle. But don't use your good fabric until you have the fit you want, to be on the safe side. Use an inexpensive fabric, like muslin, to test the fit first.
8. Choosing a pattern style meant for intermediate or advanced sewers
Today, you can learn so many things on YouTube, blogs and in Facebook groups. I've looked up so many things on YouTube, both sewing related and non-sewing related, and learned exactly what I needed to. It's great to have these resources available to us. But I want to caution you against trying to do too much, too soon. There are basic things you need to learn as a sewing beginner that you can build on for the success of future projects.
I know you want to jump right in and make a one of a kind piece of clothing. But don't rush into it. For your first few projects, keep it simple. Use patterns created for beginners until you get used to your sewing machine and basic sewing techniques. Practice the basic techniques in other projects or on their own with fabric scraps or muslin. It'll save you a lot of headaches and seam ripping later.
The good news is, you can also learn basic sewing techniques on blogs and YouTube. If you don't quite understand the pattern instructions, you can look it up on YouTube and actually see it being done.
With sewing, the more you do it, the better you get at it. There's no set time frame for you to graduate from beginner to advanced. You can go at your own pace. So, there's no need to be in a hurry to tackle the complicated stuff.
9. Failing to learn how to read a sewing pattern
Every label, marking and symbol on your pattern pieces mean something. The grainline, finished measurements, shorten/lengthen lines, fold lines, etc., are all important. If you don't know what any one of them mean, it's important you find out. In number 13 I talk about my failure to find out what the grainline was for. I wasted a lot of fabric as a result.
If you intend to be a self-taught sewer, you're going to need to educate yourself as much as possible. So, if there's anything on your pattern pieces you don't understand, go to your friend Google or whatever search engine you use and look it up. It could be the difference between wasting time and money or saving time and money.
I have 2 great blog posts by The Sewing Loft that will help you. The first is How to Read a Sewing Pattern. This post gives you things to keep in mind regarding the pattern envelope and things to look for in the pattern instructions.
The second post is Understanding Pattern Markings. This post decodes the symbols you'll see on commercial sewing patterns. Heather, the author, calls it a cheat sheet and deciphering tool. It's a great tool for a sewing beginner.
10. Ignoring fabric suggestions on your pattern
The fabrics listed on the back of your pattern envelope are there to give you an idea of what fabrics are appropriate for the style of your pattern. While you can use the exact fabrics they recommend, they also act as a guideline. It doesn't mean you can't choose a similar type of fabric.
As I said in my post on choosing the right fabric, you're not limited to the fabrics your pattern suggests, but if you're a beginner it's a great help until you become familiar with which fabrics are suitable for which type of garment.
---
Whew! We're halfway through the list, but don't get overwhelmed because I created a FREE checklist for you. The Sewing Beginner Checklist gives you a list of
31 things you

should

 do as a sewing beginner
. This way you'll have every thing in one place that you can keep on your electronic device or in a file. You know I had to make it as easy for you as possible, right?
The checklist is 4 pages + a resource page, but I've created sections so you can easily find what you need. Again, this checklist is to help you avoid the mistakes I made as a sewing beginner so your sewing experience can be the best it can be.
And at the end of the checklist I included a list of all the resources I mention in this post so you'll have them at your fingertips.
---
11. Skipping fabric preparation
Sometimes we're so excited to jump into our project, we don't want to take the time to do the prep work. Did you notice I said we? That's because beginners aren't the only ones who can't wait to get started so they can wear or use their finished product.
Some fabrics, not all, need to be washed or dry cleaned before we use them. Examples of this would be denim, (machine wash) and wool, (dry cleaned). This depends, of course, on how you're going to use them and what kind of care you'll give them after your project is made and put to use.
If you're going to make a garment, fabric preparation is a necessity. Some fabrics shrink after machine washing or dry cleaning. This is could be a disaster if you skip this step and make your garment. Shrinkage after a wash or dry clean will make your garment tighter and/or shorter, if it still fits at all.
Taking the time to prepare your fabric is a small delay compared to the disappointment of not being able to wear the garment you put your time and effort into. Fabric preparation also applies to the items you'll be sewing to or inside your garment, such as lining, interfacing, trim, etc. Some of these items will have to be preshrunk as well. You'll have another unwearable garment if the lining shrinks and the garment does not.
You must also make sure the care of anything that will be sewn to your garment is compatible with the care of your fashion fabric. For example, if you make a skirt you want to be able to throw into the washing machine, don't sew trim or accents to it that are dry clean only.
12. Choosing a fabric that requires a special pattern layout, seam finish or advanced sewing technique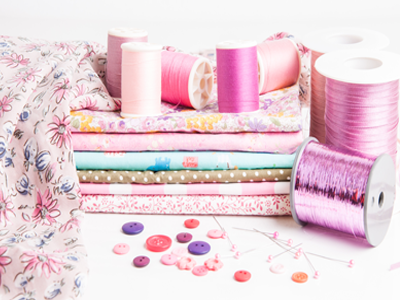 Examples of fabrics that require a special pattern layout are corduroy, satin and velvet. If these fabrics are placed on your fabric incorrectly, you'll get two different color shades of the same fabric.
I can't emphasize enough that you want your first few sewing projects to be simple so that you don't get overwhelmed.
While satin is not difficult to sew, corduroy and velvet are definitely not fabrics you want to tackle as a sewing beginner. Corduroy and velvet also require special care when pressing seams. I'm not going to go into the details of how to press these fabrics, but please save yourself the headache of working with them and learning to sew at the same time.
An example of a fabric that requires a special seam finish and advanced sewing is chiffon. Because you can see through chiffon, the inside has to look just as good as the outside. You can't just sew the traditional seam, it requires a special finish, called a french seam, to hide raveling edges. Stitches from a serger even look bad on chiffon.
Again, there's no need to rush into fabrics that require extra steps and care. You can learn to sew with all the fabrics I mentioned and the challenging fabrics I haven't mentioned. As you get more sewing under your belt, you may want to challenge yourself. Just remember, you don't have to challenge yourself right away. Take your time and go at your own pace.
13. Eyeballing the straightness of your pattern pieces on your fabric
I also talk about this sewing mistake in 10 Sewing Mistakes that'll Make Your Clothes Look Homemade-number 3, but I thought it was worth mentioning again.
I see people lay their pattern pieces on their fabric and if they look straight, they go with it. Don't trust your eyes because they will deceive you.
You should not eyeball the straightness of your pattern pieces on your fabric. In fact, you don't have to because every pattern piece has a grainline to help you make sure it's straight. The grainline is not only there to tell you which direction to lay your pattern on your fabric, but also to use as a guideline for measuring to make sure your pattern is straight.
I started sewing when I was 14. I had no idea what the grainline was for on the pattern and I never bothered to find out. I just figured it was nothing I needed. (Crazy, right?) It wasn't until my first sewing class in college that I learned what the grainline was for and how to use it. "Ooooooh, I do need this line", I remember saying to myself. You learn new things everyday. Tee hee.
The reason I'm emphasizing this is because cutting your fabric with crooked pattern pieces can result in your garment hanging incorrectly. It will also feel weird and no amount of pulling and tugging can fix it. Neither will any alteration known to man. You'll have to start over and your fabric will be wasted.
14. Ignoring sewing pattern instructions
Ignoring sewing pattern instructions is like ignoring the GPS' driving directions when you have no idea where you're going. Raise your hand if you've ever thought Mr. GPS was wrong and you were right. Yep, me too. (And when I was learning to sew, I also thought I knew better than the pattern instructions.) Do this in sewing and you'll have to recalculate your route and rip some seams with your BFF, the seam ripper, along the way.
The sewing instructions are written with sewing beginners in mind.
I used to work for Simplicity Creative Group when they were just Simplicity Pattern Company. A coworker from the pattern instruction department explained to me that they write the instructions assuming the customer is a beginner. They do this because they know if a beginner can understand the instructions, then the intermediate and advanced sewer will definitely understand them.
The pattern companies want everyone to understand the instructions no matter their skill level. They keep them as simple as possible, even if it means telling you how to make your project the long way.
After you sew a few projects successfully and get more sewing experience, you may find a short cut or a more simple way to make something. That's great as long as it doesn't jeopardize the quality of your project. You don't want to put in a lot of time and effort just to make something that looks homemade.
15. Failing to learn sewing terminology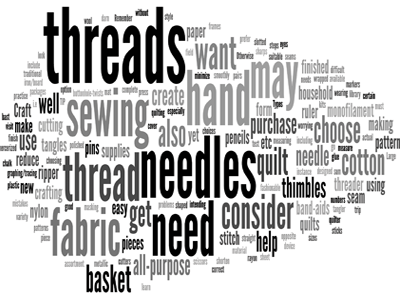 There are some sewing terms you're going to see and hear quite often. Yes, sewing has a language of it's own. Many of the sewing terms identify certain parts or features of a garment or specific sewing techniques, so it's important that you know them.
Now, I'm not saying you have to buy a big sewing dictionary and learn at least 10 words each day and test yourself on what you've learned. It's not that intense.
You can learn the sewing terminology as you go, just don't ignore it. Here are 2 great sources to get you started. Again, no tests are necessary.
The first is The So Sew Easy Sewing Glossary by Deby. She explains sewing terms and even says the glossary is ideal for beginners. The second source is Sewing Terms 101, A Beginner's Sewing Glossary by Ashley. She gives you a list of common sewing terms and techniques that you can refer to as you work on your sewing projects.
16. Failing to press your seams as you go (before they're joined to another seam)
As a sewing beginner, I made this mistake over and over and over again. I thought I knew better than all the sewing experts that stressed pressing as you go and before joining seams.
One day, after getting multiple projects that looked homemade as a result, I decided to do it their way. I was amazed at the difference pressing made. I mentioned this in my blog post on 10 sewing mistakes that'll make your clothes look homemade-number 6, but I wanted to emphasize it again because even some experienced sewers still make this mistake.
You don't have to get up and go to the ironing board each time you sew a seam. Sew a few isolated seams first. For example, sew the shoulder seams of your blouse, the shoulder seams on your facings, the seams of your sleeves, the side seams, etc. Then, take them to the sewing machine and press them. After they're pressed, sew the neck facing to the neck of the blouse and the sleeves to the armhole, etc. This will save you lot of time.
17. Sewing for others while still learning the basics 
Give yourself time before you start sewing for others, because while it can be a joy, it can also be a nightmare. People mean well, they really do. But most people don't realize the work that goes into sewing anything, whether it's a pillow or an entire garment.
In the beginning, you may not even realize the work involved in their project and under charge for your services. Run and run fast from people who say things like,
"I need you to make me a [insert skirt, costume, window treatment, etc.] because I can't afford to buy it in the store." If they can't afford things that are mass produced, they most certainly can't afford things that are custom made.
"Can you make me a dress by Friday? It's really simple." It's Monday of the same week. So they want you to put your life on hold because they need a dress in 4 days. Don't do it. That's time you'll never be able to get back. And for the record,

it's never as simple as they say it is

. They have a totally different definition of "simple".
"If you make this for me, I'll help. I used to watch my grandmother sew when I was a little girl (or boy -no fellas, you're not exempt)." That was 29.9 years ago.
If you run, you won't have to explain why there is no way on earth you're going to voluntarily sew for pennies, (if they want to pay you at all), put your life on hold, or watch them mess up a pattern or fabric because they thought they could do something they saw their grandmother do 3 decades ago. It's not worth the headache, time or stress to put yourself under that kind of pressure – not as a beginner or as an experienced sewer. Just. Run.
18. Taking sewing shortcuts
I mentioned a little about shortcuts in number 14, but I thought it was worth going into it a little.
When you start sewing your first project, you're so excited to finish something. In your excitement you might be tempted to skip an "unnecessary" step you think will slow you down. We've all been there and done that.
Remember, in sewing, each step is a stepping stone to the next step. They're all done for a reason. As a sewing beginner, you may not understand why step 3 is important until you get to step 7. Then you realize you can't continue with step 7 until you go back and do step 3. That may require you to undo step, 4, 5 and 6 (unless you skipped a couple of those, too). Oops!
Learn it the long way first. It'll take more time but it'll also show you what the end result should look like. As you gain sewing experience, if you find a shortcut that will give you the same result, use it. But I encourage you to never jeopardize the quality of your project. It's not worth it. Make something you'll be proud to put your name on.
19. Not knowing when to take a break from your project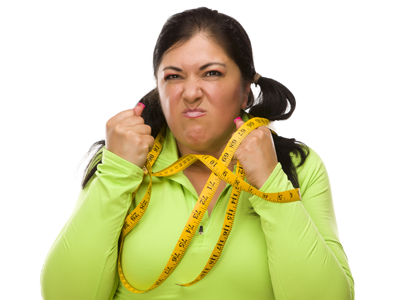 You will have a sewing project or technique that will drive you crazy. Hopefully that won't be your first project or even your first few projects.
When there's one step you just can't seem to understand or sew correctly, you may refuse to be defeated by it. In an effort to figure it out so that you can finish it, you may sew, rip, sew, rip with determination until you're totally frustrated. That's when you know it's time to take a break.
Taking a break is not an admission of defeat, it's a way of keeping your sanity.
I can't tell you how many times I've temporarily walked away from a project. It's okay to go get your favorite dessert or watch your favorite TV show and take your mind off your project for a while. I love a reason to take an ice cream break. It does wonders.
I'm not saying to permanently abandon it. Noooo. Just to TEMPORARILY walk away from it. Give yourself some time, whether it's an hour, a day or days if necessary. You'd be surprised the difference the time away will make. Looking at your sewing project with fresh eyes will sometimes hep you solve the problem and end the frustration.
20. Allowing sewing mistakes to discourage you
Oooh, the sewing mistakes I've made. (I could add them to this already long list, but I know you probably have other things to do today.) Sewing the right side of one pant leg to the wrong side of the other. Cutting a hole in a pair of pants that were almost done. Hmm, it seems I've made a lot of mistakes involving pants. But trust me, I've made my share on plenty of other types of sewing projects, too.
In sewing, mistakes are a part of the learning process. And like those of us who are experienced sewers, you're going to make plenty of them. But don't let them discourage you. Instead, let them make your sewing better.
I've found in life and sewing that oftentimes the most effective teaching is learning what NOT to do or how NOT to do something. Allow your sewing mistakes to be the teachable moments they're supposed to be.
If you really want to be good at sewing, don't give up. And don't be afraid to make mistakes, even if it's one on this list of 20. (Perfection is overrated anyway.) Learn from those mistakes and celebrate the things you get right, no matter how small.
You've heard the old proverb, "If at first you don't succeed, try, try, again." I think whoever came up with that proverb was learning how to sew. Haha!
I hope this is a help to all my sewing friends who are beginners! This post comes from loving sewing and loving you enough to help you avoid my beginner and in some cases, current (*cough* too much fabric, *cough*) mistakes.
To all my sewing friends who are experienced, can you think of any other mistakes that our beginner friends should avoid? Share them in the comments. I'll appreciate it and "sew" will they. Get it, huh, get it? Okay, I'm done.
---