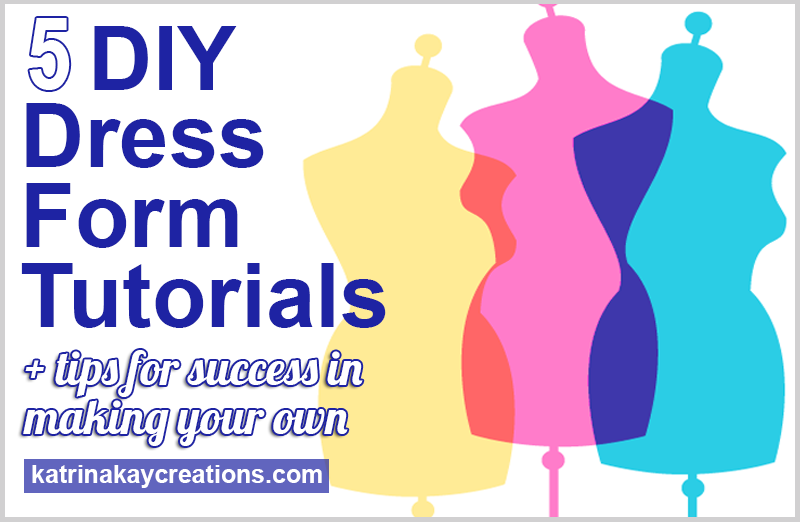 A dress form can be a life saver when you have to do fittings for yourself, by yourself. Especially if it's a duplicate of your body and shape. But a custom made dress form is expensive. Unless you make it yourself, that is. And according to the Internet, there are many different ways to make your own dress form. But is it really worth it to do it yourself? As someone who does solo fitting all the time, I say yes! So today, I'm going to tell you about 5 DIY dress form tutorials I wish I'd known about when I made my dress form a few years ago. 
Oh, I'm sure you know this already but, there's no way you can make a custom dress form without help. 🙂 But the good news is, your helper doesn't have to know anything about sewing. So grab your spouse, (who you may have to beg or bribe), sibling or best friend and get to wrappin'.
The tutorial I used a few years ago to make my Dress Form Double (I'll call it DFD for short) was not as easy to understand as those I'm about to share with you. Since my body has changed over the years, it's probably time to make another one anyway. But this time I'll be using one from this post.
Warning: Being wrapped in duct tape isn't for everybody. If you feel ill in any way, don't ignore it. Sit, lay down or have your helper cut you out of the duct tape immediately. 
Here are 5 of my favorite DIY dress form tutorials.
This free DIY dress form tutorial is actually in German. But, there is also an English translation on Handimania.com. (Thank you, Manuela Waliczek-Raczka, for translating it for us.) The original version in German, by Daniela Rühl, can be found here on Burdastyle.de. The images are excellent and pretty self explanatory, and the written instructions are there in case you need them. This is one of the best DIY dress forms I've seen and the tutorial has images for each step required to make the dress form itself.
Note: If you're using Google Chrome, you can go to the original tutorial and click "Translate"  to the right of the URL and right next to the bookmarking star. Even though Chrome gives you some wacky words sometimes, the instructions in the original tutorial are a little more detailed than in the English translation. 
The fit of the t-shirt she's wearing is perfect because it fits close to the body, which won't add extra inches to your dress form. And she reminds you to wrap your neck with plastic wrap to protect it from the duct tape. Yeah, peeling duct tape off your skin does not sound like a fun time.
A microphone stand is suggested for your DIY dress form, but, there are no instructions on how to attach the stand. (DIY dress form tutorial #3 and #5 show you 2 different ways to create a stand. I used tutorial #3 to create my stand.)
Oh, how I wish I had thought to make my dress form double so I could try pants on it. This is one of the things I like about this free DIY dress form tutorial on offbeatbride.com. (Although, it has inspired me to make a separate pant form.) And the author, Sarah, looks like she's having so much fun!
I don't remember the process being overly fun. I just remember it taking a long time. But it was so worth it in the end.
Sarah's dress form stops at the base of her neck. I did my dress form like this also and then wished I had included the neck for fitting collars. But, you can always do your neck separately and duct tape it to your dress form.
While she doesn't show an image for every step, she does have written instructions for every step.
As far as what you need to do once the form is cut off your body, those instructions are all written. For someone who has made a custom dress form before, this will probably be okay. But if you've never made a dress form, you'll need to refer to some of the other tutorials I mention in this post for a visual reference.
I recommend using card board or foam core for your arm and leg openings, after stuffing the form, for support. Also, this type of DIY dress form will have to be hung, like Sarah shows in her tutorial, as there is no place to put a stand.
Threads Magazine has featured many DIY dress form tutorials in their magazine and on their Web site, both free and for sale. This tutorial by Leah Crain is free and can be found here on Threadsmagazine.com and with only written instructions on Leah's Web site here.
I wish I had known to do the "cross your heart" with the duct tape for bust definition. It also helps you to not have lopsided dress form boobs.
Threads Magazine gives quick highlights about how to apply the duct tape, but Leah breaks it down a little more in her written instructions on her Web site.
Leah tells how to wrap the first layer of duct tape, how to wrap the second layer and how to mark the dress form before cutting it off, among other instructions. She also tells you to wrap the dress form a 3rd time after you finish stuffing and finishing the bottom.
And each layer of duct tape she tells you to wrap, she tells you what direction to wrap it in for more stability.
My favorite part about this tutorial is the information she gives on creating a stand for your dress form. In fact, I used this tutorial to create my dress form stand. It is the easiest stand I've seen so far. With help from my brother, (he cut the card board tube space for the hanger) I was able to create a stand like Leah's, with wooden hanger and all. You can also use PVC piping instead of a card board tube.
To finish off your DIY dress form stand, Leah suggests using a microphone stand inside the tube or a Christmas tree stand outside the tube. I was able to use the stand from a purchased dress form I already had but didn't use much. The top of the purchased dress form comes right off, so I'm able to put the bottom part of the stand inside my card board tube. It works perfectly!
Joyce Perhac's DIY dress form tutorial is highlighted for free on threadsmagazine.com. You can also buy Joyce's complete process in her booklet, "Make Your Own Body Form", on her Web site for $10.
This was the first tutorial I saw in Threads Magazine years ago. Of course, when I was ready to make my dress form, I could not find my magazine anywhere. I didn't even know she had a booklet I could buy.
Unlike the previous tutorials, Joyce begins wrapping from the bottom and works her way up. She starts wrapping at about mid-thigh. Of course, the length of your t-shirt will determine this.
Her size 10 model is wearing a very large t-shirt, whose sleeves she later recommends cutting for a closer fit for the bust and underarm. If you want to avoid having to cut the sleeves, I recommend wearing a t-shirt that has a snug fit. This also helps you  make sure your armhole is not too low.
Like the previous tutorials, Joyce recommends wrapping 2 more layers after the 1st, for stability. So, the layers would be wrapped as follows: layer 1-horizontal; layer 2-vertical; layer 3-horizontal.
The stand created in tutorial #3 would work for this dress form also.
To get access to this DIY dress form tutorial from the Teach Yourself to Sew series, you must have either a Threads Magazine subscription or a Threads Insider subscription. (Threads Insider is the Internet version of the magazine, which you get free if you have a Threads Magazine subscription.) Or you can purchase a video download of the entire 2nd season of Teach Yourself to Sew.
If you're not a Threads Insider subscriber, you can try their free trial for 14 days. As a subscriber, I like getting Threads digitally so I don't have to find places to store magazines. I don't know about you, but I like to keep my sewing magazines in case I need them for future reference.
This tutorial is a 2-part video from Season 2 of the Teach Yourself to Sew series and the instructions are very detailed. Judith Neukam, the Senior Technical Editor of Threads, really takes you step-by-step through the dress form making process.
Judith takes the time to show you how to prepare your body before wrapping begins. She gives tips on how to mark your neckline, which is used as a guide during the wrapping process. She also shows you how to mark other places on your body for accuracy, (like the center back), that you'll also need to transfer to your dress form after the wrapping of duct tape is finished.
The stand Judith shows you how to create in this video 2 is a little too involved for me. But it may be something you can easily create or get someone to create for you. Otherwise, you can use the stand from tutorial #3 above.
If you're a Threads Magazine or Threads Insider subscriber and want to make your own dress form, all you need is this video. It's very easy to understand. I highly recommend it and wish I had known about it before I made my dress form.
I've given you 5 of my favorite DIY dress form tutorials, both free and for sale. Now I want to give you some tips for successfully making your dress form.
Tips for successfully making your dress form.
Make sure the room you're being wrapped in is cool and not too hot. If it's summer, turn the air conditioning up a little higher than you normally would. If it's winter, turn the heat down a little lower. You'd be surprised how hot you get when you're wrapped in duct tape.
Be prepared to stand for a long time. How long depends on how long it takes your helper to complete the process. If you need to take a break, sit or lay down. I found laying down was easier than sitting.
Wear your best fitting undergarments. You want your dress form to be a duplicate of your body to get the best fitting results in your clothes. Undergarments play a very important part in how your clothes fit.
Use an old t-shirt that fits close to your body. This is not the time to wear your favorite t-shirt because, as you know, it will become one with your custom dress form. Also, don't wear an oversized t-shirt because you don't want your helper to have to deal with a bunch of extra fabric or make your dress from too loose.
Wear a t-shirt the length you want your dress form to be if you don't want to have to do any extra cutting. This is optional, of course, because you can always cut the form to make it shorter. But make sure your t-shirt is not shorter than the length you want your dress form to be because you can't make it longer.
Make sure you stand up straight. You don't want your dress form to have bad posture. Judith Neukam, of Threads Magazine, suggests you wear shoes to help with posture also.
Don't use cheap duct tape. I learned this the hard way as some pieces of my duct tape started peeling off after a couple of days.
Don't let your helper wrap you too tight or too loose. Both will affect how your clothes fit on the finished form. Also, if you're wrapped too tight, you'll want to pass out during the wrapping process, and I don't want you to do that. You should not feel like you're in a corset or that you can't breathe.
Make bathroom trips before you're wrapped from the waist down. Otherwise, that's gonna be a little tricky.
Before the form is cut off your body, make sure the following is marked with a

permanent marker

:

Center Front
Center Back
Neckline (especially if your dress form will have a neck)
Shoulder Line
Natural Waistline

Use bandage scissors to cut the form off your body, if you have a pair. While they'll prevent accidents, there's no need to buy a pair if you don't already have them. Just ask your helper to take their time and be very careful not to cut any "valuables". You know, like flesh (ouch!) or undergarments. Judith Neukam, of Threads Magazine, shows her method of preventing the cutting of flesh or undergarments in the Teach Yourself to Sew video I mentioned in DIY dress form tutorial #5.
Before stuffing your dress form, place a padded bra cup or shoulder pad inside each boob to stop them from collapsing when you're using your dress form. It's best to stuff the dress form boobs with a little poly fill first, then place the bra cups/shoulder pads on top, then stuff with more poly fill. Judith shows you how to do this in the Teach Yourself to Sew (see tutorial #5, above) video also.
Use card board or 1/2″ foam core on your dress form openings, like the bottom opening (pictured on the right in dress form tutorial #1), armhole or arm openings if your dress form has partial arms, the neck opening if your dress form has a neck and leg openings if your dress form has legs.
Why have a Dress Form Double (DFD)?
If you find solo fitting very challenging, even with my post on 7 Ways to Make Solo Fitting Easier, then a Dress Form Double (DFD) will make your life so much easier. You'll be able to use your DFD for fitting the clothes you sew as well as for fitting the clothes you buy that need to be altered. Have you ever tried to pin clothes on yourself? Yeah, a DFD will help you avoid sticking yourself repeatedly. Or am I the only one who does that?
With a DFD, you'll be able to fit your own body, just as you would if you were fitting someone else. You'll be able to easily see, pin and mark every area, including the back, that may need adjusting.
A DFD is not a requirement to sew for yourself, but it does make solo fitting a lot easier.
Do you have a Dress Form Double (DFD)? If so, share with us in the comments how it has made your fittings easier. If you would like to make your own DFD and you have questions, ask them in the comments.