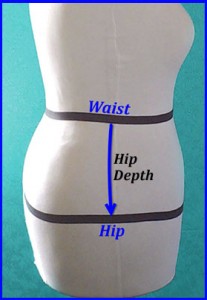 Happy New Year! Welcome to my first blog post of the new year.
Last year one of my blog readers asked me the following question:  I am sewing for my mother-in-law that has a waist size of 35 inches and a hip size of 52 inches. I can never get her curves right from one point to the other smoothly. Any tips or suggestions?
Well, after some trial and error attempts with these measurements, I think I have the answer to her question. Or at least a good place to start.
Problem
There is a significant difference (17″) between the waist measurement (35″) and hip measurement (52″), which makes it hard to shape her side seam from the waist to the hip, or her hip depth.
I can see how this is a problem because commercial patterns only allow about an 8 to 10 inch distance between the waist and hip. But when you have a very small waist and larger hips, you need more room to shape your side seam.
Solution
Increase the distance between your waist an hip to match the distance on your body or the body of the person you are sewing for.
Measuring Tips (click image to enlarge)
 If you're measuring your body, it's much easier if you get someone to help you with this.
A. Tie a piece of elastic around your natural waistline and your hip     line. If you don't know where your natural waistline is, tie the elastic where you think it is. Then, bend to your right and again to your left. The elastic should roll to your natural waist.
Tie another piece of elastic around the fullest part of your hip. The fullest part is where your butt sticks out the most, for lack of a better way to describe it.
B. Make sure the elastic you tied around your hip is parallel to the floor. It should NOT be pointing toward the ceiling or pointing toward the floor (indicated by the 2 blue arrows in image be).
C. Measure your hip depth, or the distance between the elastic at your waist and the elastic at your hip.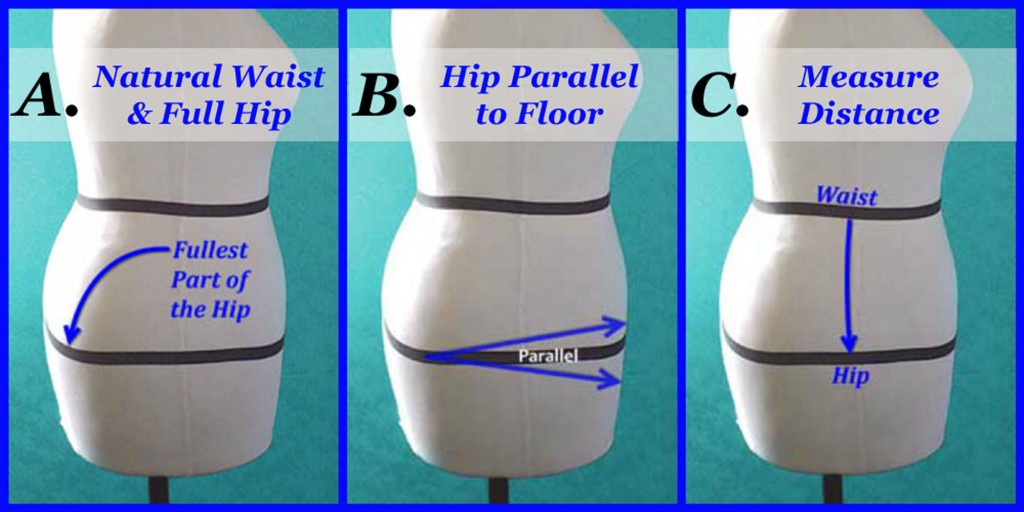 In the video below, I show you how to:
Measure the hip depth on your pattern piece
Measure the hip depth on your body
Adjust your pattern piece