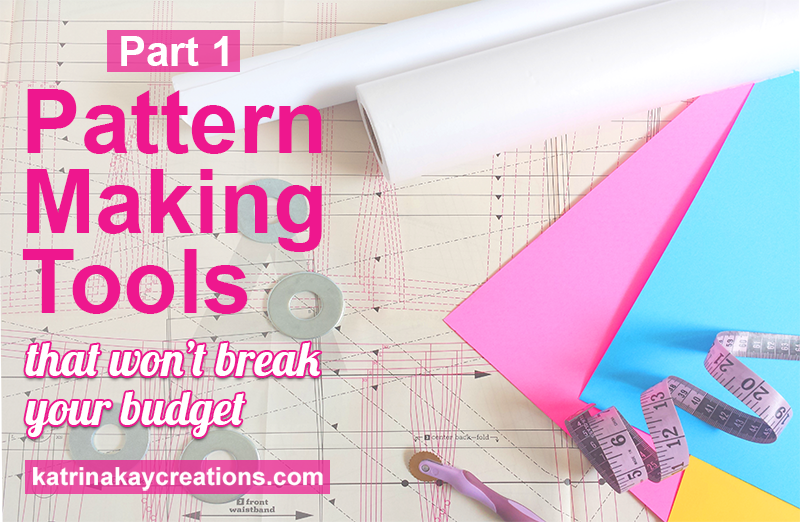 Hi, Everyone! I'm going back to the basics with this post and the next one (Part 2). For some of you, this will be a refresher on patternmaking tools. For those of you new to patternmaking, this will be new information. But whatever your patternmaking skill level, you don't have to have the most expensive tools to make or alter your own patterns. You can start with the very basic, some of which you may be already using in your sewing, and upgrade in the future. Today in Part 1, I'll be talking about 4 of 7 patternmaking tools that won't break your budget. I'll tell you where to buy them, what I like about them, what I don't like about them – if anything, and approximately how much they cost. All of these are tools I both started out using and/or use now.
Keep in mind, there are a lot of patternmaking tools out there. The good news is, you don't have to buy them all at one time. Use the patternmaking tools in this post (and my next post coming on September 30th) and get the rest as you go.
*Note: All prices and products are correct at the time of this posting, but are subject to change. These are all things I use, but I encourage you to shop around and compare prices. And make sure you use those fabric store coupons and take advantage of sales.*
Here they are, 4 of 7 patternmaking tools I'll be talking about this month.
1. Paper
I personally don't like the tissue paper used by commercial pattern companies because it's too fragile. I've often traced my commercial pattern onto paper that will allow me to make alterations without ripping it up and is forgiving when I have to re-tape something. There are several different kinds of pattern papers on the market, sold within the sewing/fashion industry and outside of the industry. I don't like to spend a lot of money on paper because I know I'll have to buy it over and over again. Here are the 2 papers I use:
Banner paper: This paper is used to create banners for parties and other celebrations, but it's also great for patternmaking. I like it because it's white, which makes it easy to see pencil markings. It's not fragile, like commercial pattern tissue, so your patterns will hold up better with lots of use.
Use this paper to copy and preserve your commercial tissue patterns, trace PDF patterns onto it or make your own patterns.
Because banner paper comes on a roll, when you unroll it to use, it curls back up. This is what I don't like about banner paper. I usually roll it in the opposite direction a couple of time to get it to lay flat. I also don't like that you can't see through it to match seams and markings like you can with tissue patterns, but that's something I can live with.
*Note: I converted feet into yards for those of us who only think in yards. 🙂
What: Banner paper
Where:  Buy at Walmart, (Also, check in store)
Cost: $2.53+ for a 30 in x 30 ft roll (30 feet equals 10 yards)
I used to buy  banner paper at office supply stores, but I've noticed their prices have gone up a lot. I would get a 30 in x 72 ft roll (72 ft equals 24 yards) for $8. In my research for this post, I found they charge more and give you less, so make sure you shop around.
Medical Paper: This is the paper used in the doctor's office to cover the exam table. I like this paper because you can see through it, but it's not as fragile as commercial pattern tissue. So with this paper it's easy to place one pattern piece on top of the other and match seams, etc. Also, when you unroll it, it doesn't curl back up.
The use for this paper is the same as banner paper, above.
I started using medical paper this year and so far, so good. I haven't found anything I dislike about it yet.
What: Medical paper
Where:  Buy on Amazon
Cost: $10.50 for a 21 in x 225 ft roll (225 feet equals 75 yards)
As mentioned earlier, prices are subject to change. The night before I published this post, the prices on both papers had changed. The Walmart banner paper was more while the medical paper price was less.
2. Poster Board
Oak tag (like poster board but heavier) also called manila paper, is used in the fashion industry for slopers so that you can quickly trace a sloper onto paper. Lay it on the paper, draw around it with your pencil, include markings necessary for sewing and voila! The sloper is traced and ready to go.
But oak tag is expensive and buying it wholesale is out of the question because the roll would be too heavy to lift onto the table. And I know my little ole' cutting table would not be able to take the weight of it anyway. A better solution for those of us who don't use industrial cutting tables is poster board. It's lighter, cheaper and easy to get.
Poster board is not only good for tracing slopers to design your own patterns, but also for prolonging the life of your favorite commercial patterns. Again, that tissue pattern is fragile. And when you finally have a pattern that fits, you want to use it over and over again. Trace it onto poster board and you'll always have it to use as a sloper, to trace it onto fabric or trace it onto paper and change a design feature. I show you how to do this in this post.
What: Poster board
Where:  Buy in discount stores like Walmart, Target and some dollar stores
Cost: Varies, depending on store
3. Tracing Wheel (Serrated Edge)
If you've been sewing for any length of time, you probably have one of these in your sewing tool box already. I love when you can use one tool for more than one purpose. Don't you? A tracing wheel is not only great for transferring lines and markings onto your fabric, but also onto your pattern. I specifically mention a tracing wheel with a serrated edge because it puts subtle indents into the paper that act as a guide for drawing your lines or markings.
I also use my tracing wheel to assist in folding my pattern on a dart or pleat line. Remember those subtle indents I mentioned? They also act as perforations on the line you need to fold and makes folding directly on that line super easy. (I show this in the video.)
What: Tracing wheel
Where:  Buy in fabric and craft stores
Cost: Less than $2, depending on the brand and store (some do cost more)
4. Weights
Years ago, I bought weights from the fabric store, wishing there were more than 6 in a pack. (The weights I saw recently were only 4 in a pack.) I used them all the time and misplaced them a couple of times so I decided to put them in a place where they would never get moved or lost again.  I have yet to find those weights because, unfortunately, I hid them too well.
The next time I bought pattern weights, I got them from Home Depot. Fasteners work great as pattern weights, as well as other tools from home improvement stores. They're easy to stack if you need them to be heavier. You can "dress" them in the colors of your choice or leave them as is. And you can get a lot more than 6 and buy them by the box.
What: Weights (The home improvement store calls them fasteners)
Where:  Buy in home improvement stores, like Home Depot or Lowe's
Cost: Approximately $6 for a box of 20
Stay tuned for Part 2 on September 30th where I'll talk about the last 3 patternmaking tools that won't break your budget. I'll also be doing a review of my new favorite tool that you'll definitely want to put on your wishlist. 🙂
Don't forget to check out the last 3 budget-friendly patternmaking tools in Part 2.
Do you have any budget friendly patternmaking tools you use? I would love to hear about them in the comments.