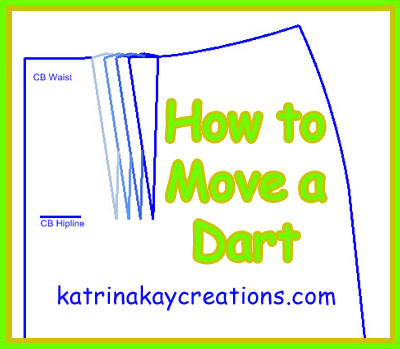 Have you ever had a pattern with so many fitting problems, you're not sure where to begin? I tried to ignore some of them, like the front darts on my skirt being too close to the center front/back and looking really weird, but I couldn't. If I'm gonna make the skirt, it might as well be right, right? So today, I'm going to show you how to move a dart on your sewing pattern. You can use this same method for any dart, like a bust dart.
Some patternmaking books tell you a waist dart should be 3″ to 3 1/2″ from your center front and center back. That's a good place to start, but the best thing to do is a test fit and if that dart placement doesn't work for your body, then change it to what does.
Just remember, whenever you move a dart, it has to be trued again to make sure you're still getting a smooth seam when the dart is sewn. You may have to reshape the line the dart shares. It's very easy to do and I go over this in my tutorial.
So, watch the video below and find out how to move your darts to a position that's suitable for your curves.