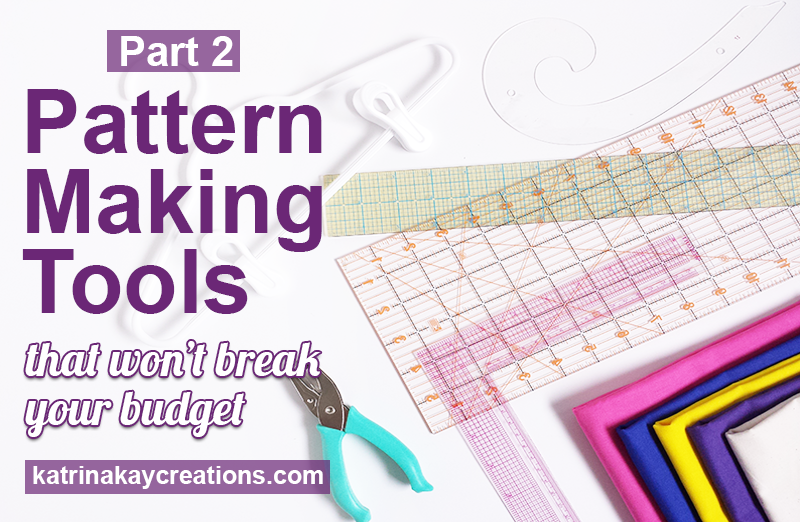 Hello, Everyone! Here I am again getting back to the basics (this is Part 2) with the last 3 of 7 patternmaking tools that I started talking about in my previous post. You can read about and watch the video of the first 4 tools I discussed in Part 1, if you missed it. As I mentioned in Part 1, you don't have to buy a lot of expensive tools to get started with patternmaking. And while I love shopping for and buying patternmaking tools or anything patternmaking, it's not always in the budget. There are some tools you may already have in your sewing toolkit, your home office or even your closet that'll give you the same result as the "out of budget" tool. Today, I'm going to talk about the last 3 of 7 patternmaking tools that won't break your budget.
*Note: All prices and products are correct at the time of this posting, but are subject to change. These are all things I use, but I encourage you to shop around and compare prices. And make sure you use those fabric store coupons and take advantage of sales.*
Here are the last 3 of 7 patternmaking tools, plus one to add to your wishlist.
1. Skirt Hangers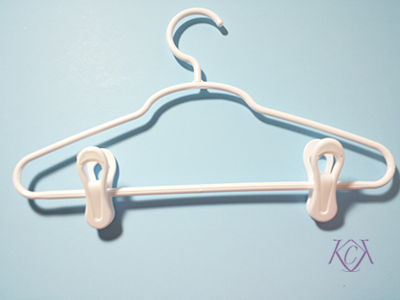 Hanging your patterns in a closet or on a garment rack will stop them from getting wrinkled and save you time at the ironing board. The fashion industry uses metal pattern hooks, but 12 hooks will cost about $15. To save money, you can use what you already have in your closet – hangers. Skirt hangers are great for hanging your patterns. One of my blog readers suggested skirt hangers and I've been using them every since then. They grip the patterns and hold them in place. In other words, they get the same job done as metal pattern hooks.
The other day I was in one of my favorite stores, Target, and saw a set of hangers for children's clothes. Immediately I thought, "I wonder if these will work for my patterns"? And they do, so I've added them to my toolkit. For the record, I 'm not encouraging you to raid a child's closet, even if they're related to you.
If all of your skirt hangers are busy, you know, holding your skirts, then you can also use regular hangers. Use a hole punch, the same tool you use to punch holes in paper to put in a notebook, and punch holes a couple inches away from the top of your pattern. Then you can stick your patterns on a hanger and have them wrinkle/crease-free and ready to be used again. Stick your muslin on the same hanger and you'll know at a glance what you made out of the pattern.
What: Skirt Hangers & Regular Hangers
Where:  Buy at Walmart, Target and some dollar stores
Cost: Varies by store but are usually inexpensive
2. Rulers
Straight Edge:  I use this ruler when laying out my patterns on fabric to make sure they're straight. This basic ruler is a must have for sewing as well as patternmaking. You don't have to have an L-square, although you should invest in one in the future, you can make it work with this ruler. And if you don't have an L-square, you definitely need this ruler that you can see through with measurement grid lines. You will use it all the time for drawing straight lines, squared lines and even lines on the bias.
Any time you're dealing with plastic, there's a possibility for breakage. But when you handle your tools with care, you should have no problem with this ruler breaking. I've had mine so long, the clear part has turned a yellow-ish color.
What: Straight Edge Ruler
Where:  Buy at fabric stores, Walmart and Amazon (Don't forget to comparison shop)
Cost: $6-$8, depending on the store
L-Square (mini): I call this the mini L-square because it's a smaller version of the larger 14″ x 24″ L-Square. This ruler is used to square lines, which is definitely required in patternmaking. You don't have to buy it right away, as long as you have the straight edge I mentioned above. But I do suggest you get this one or the larger one in the future because it's faster to use an L-square to square your lines. The mini L-square is a little cheaper than the the large one, so you could start there.
The mini L-square is a little flimsy. The plastic is not sturdy so be careful how you store it. But it works, especially for small pattern pieces.
What: L-square Ruler
Where:  Amazon
Cost: $6.50 for 8 in x 12 in
French Curve: This is also known as the french curve and there's also a hip curve . I don't have a hip curve because I use my curve for armholes as well as hip curves. This ruler gives you a nice curved lines for armholes and any other curved areas on your pattern. It is definitely needed, but you can start out with a small french curve.
If you buy a french curve on Amazon.com, be sure to check the reviews first. Sometimes they look good but the plastic is very flimsy or  the measurements aren't accurate. I was going to buy one from Amazon until I read a lot of bad reviews and saw some pictures that had warped plastic.
What: Curve Ruler
Where:  Walmart for a small french curve, like the one pictured here, and Amazon or Walmart
Cost: $5+ for a small french curve, $11+ for large curve
3. Muslin/Fabric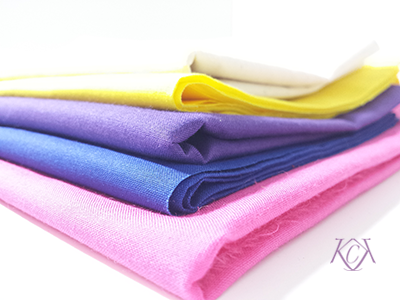 If you're going to be drafting your own patterns or altering commercial patterns, you're definitely going to need plenty of muslin to test the fit of your garments. Muslin is a bleached or unbleached cotton fabric that's used for a lot of things, but in patternmaking it's used for test garments. It's not as inexpensive as it used to be so I usually wait until it goes on sale and stock up.
Keep in mind, you don't have to use just muslin to test-fit your garments. You can also go to your fabric stash, if you have one, and pull out the outdated fabric and use it, especially if it's similar in weight to the fabric you'll be using for your project. I'm talking about fabric that not even people looking for a deal at the thrift store would want. Oh wait, that's an idea! If you don't have a fabric stash yet, go to thrift stores or good-wills and look for inexpensive, machine washable fabric that will make a good test garment. I say machine washable just in case it looks like it needs a good washing before you use it. You don't want to have to dry clean fabric you're using for a test garment.
Another source of fabric to use for test garments is remnants from fabric stores. Remember, this is just for the purpose of test-fitting so it doesn't have to be cute. Go look through the pile of remnants. You never know what you'll find.
What: Muslin/Fabric
Where:  fabric stores, Walmart and anywhere that sells discount fabric
Cost: Varies by store
Add This Patternmaking Tool to Your Wishlist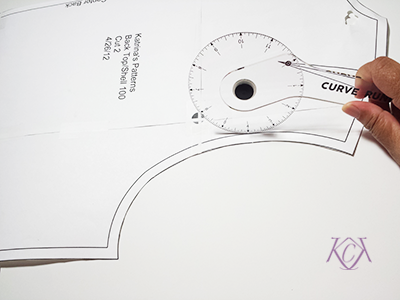 Curve Runner: The Curve Runner is a patternmaking tool I bought a couple of months ago. It was created by a woman named Claire Cochran and it's used for measuring the curved areas of your pattern like the neckline and the armhole or sleeve. (It can also be used in other industries that have to measure curves.) I love this tool!
She also has other rulers she sells. For more information you can go to her Web site.
I can think of many times I had to adjust my sleeve ease and had to check and recheck the measurement by "walking" my tape measure around the sleeve or armhole. The Curve Runner would have made this so much faster. To check for accuracy of the Curve Runner, I measured with the tape measure first. The measurement was the same.
The plastic is sturdy and the quality is very good. The only thing I don't like is that they don't have one for people like me who are left handed. In the picture above, I'm using my right hand. I could use my left hand but the numbers will be backwards. It's not a big deal, though. Hopefully, they'll make one for us lefties soon.
When you start investing more money into your patternmaking tools, you should definitely put the Curve Runner on the list.
What: Curve Runner (Used for measuring curved areas of your pattern)
Where:  Etsy
Cost: 8″ or 20 cm – $16.99 + shipping; 12″ or 30 cm – $19.99 + shipping
Watch the video where I talk about the last 3 budget-friendly patternmaking tools and show you how to use the Curve Runner.
Don't forget to check out Part 1 if you missed it.
Which of the 7 patternmaking tools is your favorite? Or do you have a tool not on the list that's your favorite? I would love to hear about it in the comments.