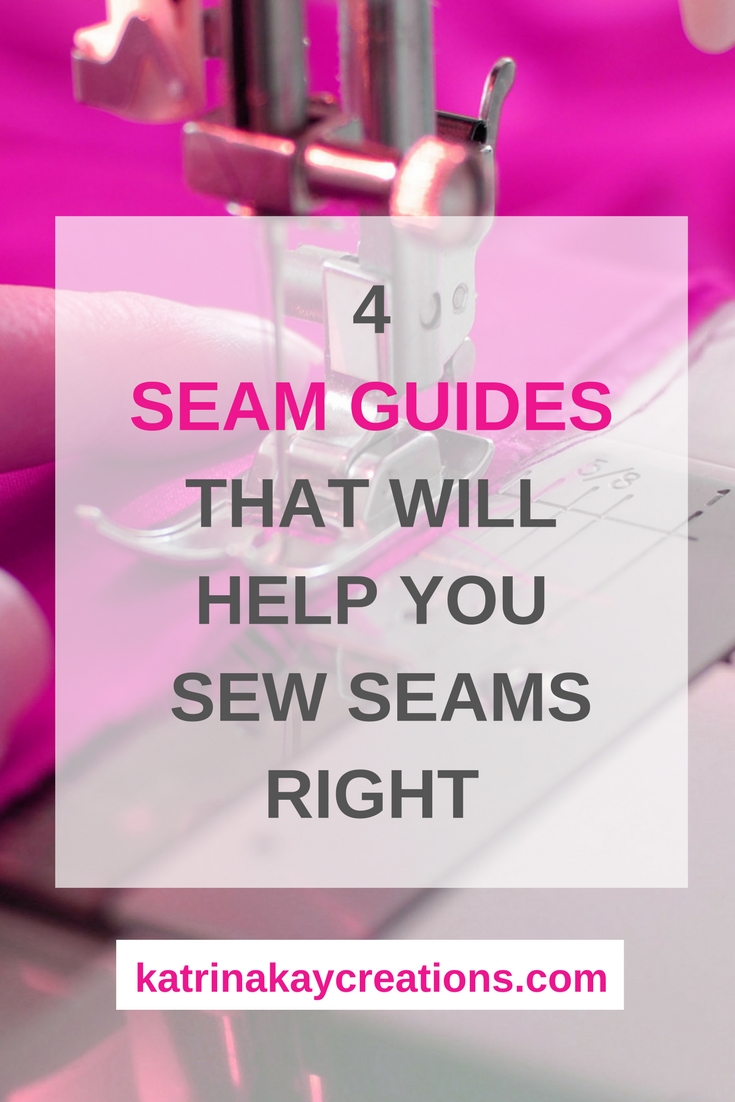 Discloser: Some of the links below are affiliate links, meaning, at no cost to you, I will earn a commission if you click through and make a purchase. Affiliate links are marked with an asterisk (*). 
When I was a teenager watching my mother sew, it looked so easy. Sewing always looks easy when someone else does it. But as soon as you lower the presser foot and try to sew a straight line, you realize sewing is not as easy as it looks. The good news is, there are seam guides out there to help beginners sew straight seams. Today, I want to talk about 4 seam guides that will help you sew seams right.
Keep in mind, none of us automatically know how to sew a straight seam or curved seam. It takes practice, practice, practice. And even then, close to perfect is probably the best we can all do.
Why is it so important to sew your seams right? And how can a seam be sewn wrong?
A crooked seam is a seam sewn wrong. Also, a seam that is smaller or larger than the seam allowance built into your sewing pattern is a seam sewn wrong.
Crooked seams will affect the look of your garment. They will scream to the world your garment is homemade. Also, pressing a not-so-straight seam can cause ripples and may not allow you to press it flat.
Crooked seams and seams sewn larger or smaller than the pattern's seam allowance can affect the fit of your garment. If you stitch only 1/8" past your stitching line, that doesn't seem like much. But seams are created when the front and back of a garment are sewn together, so multiply 1/8" by 4 and you've now taken ½" total out of the width of your garment. And vice-versa, you could add an unneeded ½' to your garment. In other words, it all adds up.
Of course, depending on the design of your garment, ½" may not be a big deal but in other cases it may be.
I once worked with another sewer to create baptismal robes. We used a very simple pattern with a jewel neckline. The other sewer was able to cut and sew the robes and sew on facings, but couldn't finish the neckline or hems because of other commitments.
The robes had to be done by a certain date, so I finished what she couldn't. When I examined the robes, I noticed she hadn't sewn her neckline with the standard 5/8" seam allowance, but instead, they were about 1 inch.
For this robe style, it wasn't a major problem because nothing was attached to the neckline but the facing. It decreased the width of the neck facing, but because the facing was topstitched, I didn't have to worry about it rolling out. But if a collar had been involved, some adjustments would've been needed.
My point is, you want to sew accurate seams on the seam lines intended by the pattern designer. That's what the 4 seam guides I'm getting ready to talk about will help you do.
1. Throat Plate Guide
The space between the stitching line and the edge of your pattern is the seam allowance. This amount is allowed for the sewing of your seams without affecting the finished measurements of your garment.
The amount of seam allowance added to your pattern is determined by the pattern manufacturer and can vary depending on the company. The sewing industry standard is 5/8". Any seam allowance smaller or larger than 5/8″ will be indicated on the pattern piece.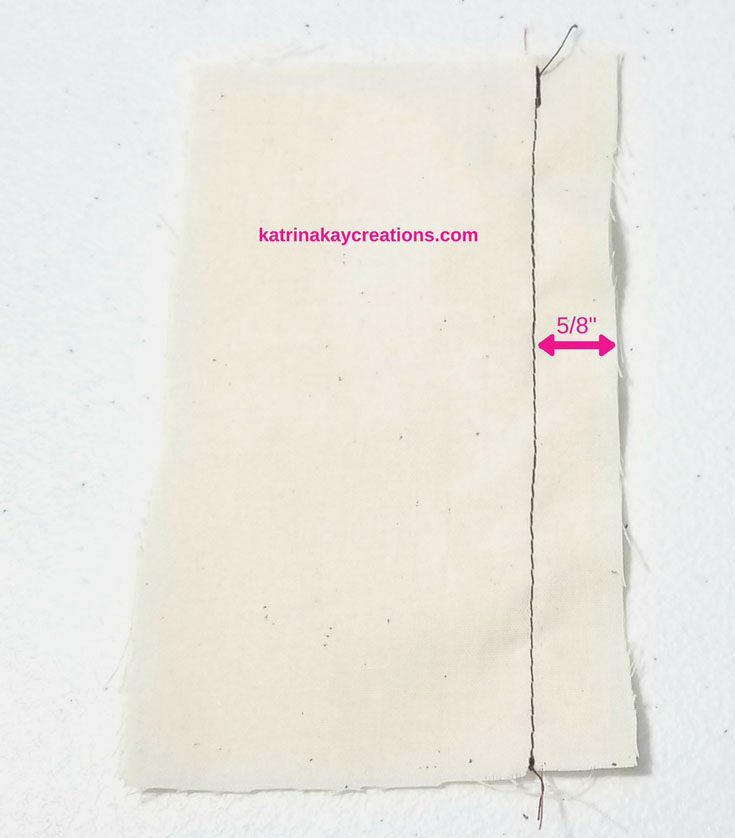 If you look at the throat plate of your sewing machine, you'll notice guidelines. Each line is labeled with a measurement: 3/8", 4/8" (or ½"), 5/8" (industry standard) and 6/8" (or ¾"). A ¼" seam is not labeled because it's right in line with the edge of your throat plate, closest to the needle.
The guidelines and labels on your throat plate mark the distance from the needle to your desired seam allowance measurement. So if you want a 5/8" seam allowance, you have to line up your fabric edge with the line labeled 5/8", and so on.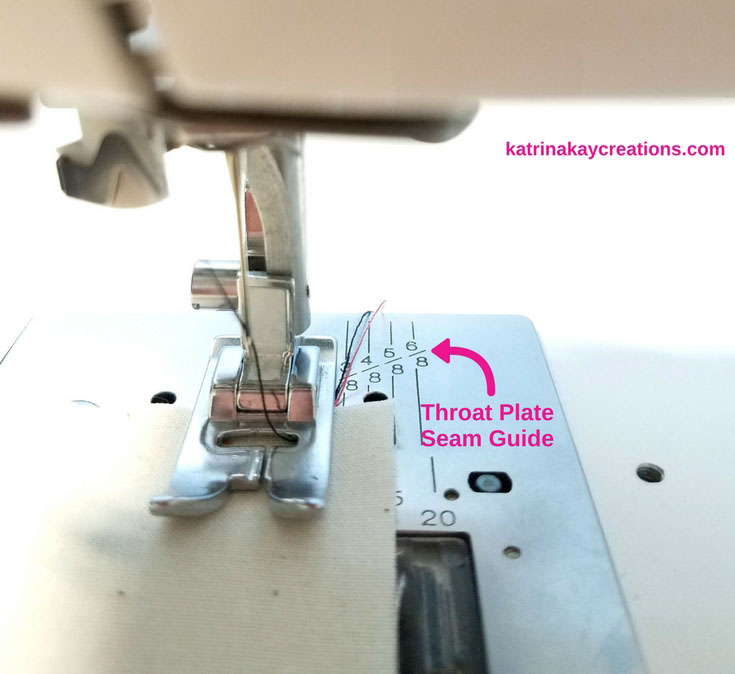 These guidelines are helpful, but can sometimes be hard to see. If they don't work for you, there are other options that I discuss below.
2. Magnetic Seam Guide*
A magnetic seam guide is not only easy to see, it won't budge when placed on the throat plate of your sewing machine. You can place it along any seam guideline on the throat plate and easily move or remove it if you need to.
I was told by a fabric store sales clerk that magnetic seams guides are not recommended for computerized sewing machines. But if you have a machine that isn't computerized, this may help you keep your seams a uniform width.
The last time I was in my local fabric store I couldn't find it, but you can buy a magnetic seam guide online at Amazon (They sell everything, don't they?).
Lining your fabric edge against the magnetic seam guide as you sew will help you stitch a straight seam.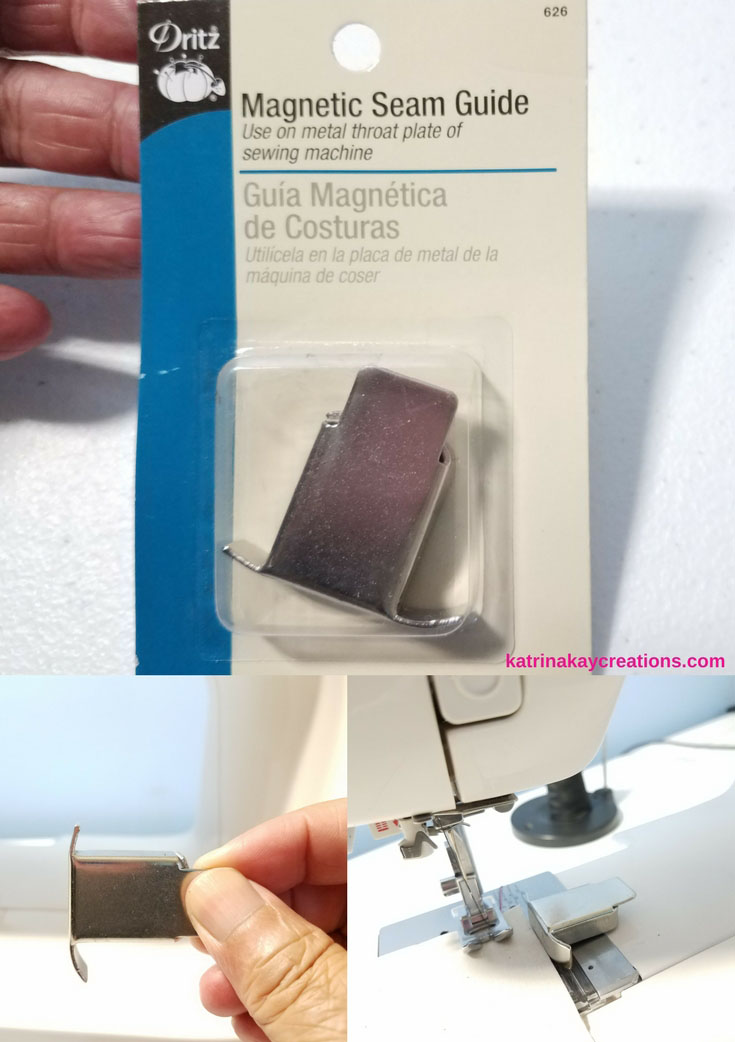 3. Nancy Notions' 6 in 1 Stick 'N Stitch Guide*
Nancy Notions' 6 in 1 Stick 'N Stitch Guide doesn't just helps you sew straight seams straight and curved seams.
The 6 in 1 Stick 'N Stitch Guide is a 2-piece guide that has a thin adhesive on the bottom. The thin adhesive allows you to stick it to your throat plate. The package gives you instructions for returning the seam guide to it's stickyness when the adhesive gets weak.
You line your fabric up against it just as you would with the magnetic seam guide. Unlike the magnetic guide, this guide may move a little.
You can use the pieces together, for a longer guide, or separately (See photo below). They're also easy to remove and reposition if you need to sew a seam allowance in a different width.
This seam guide also comes with a thin, plastic template with grid marks for commonly used seam allowances. The grid marks range from ¼" to 1-1/2" seam allowances.
Nancy Notions' 6 in 1 Stick 'N Stitch Guide costs more than the other seam guides I've mentioned in this post. There are definitely alternatives. This brings me to the last seam guide.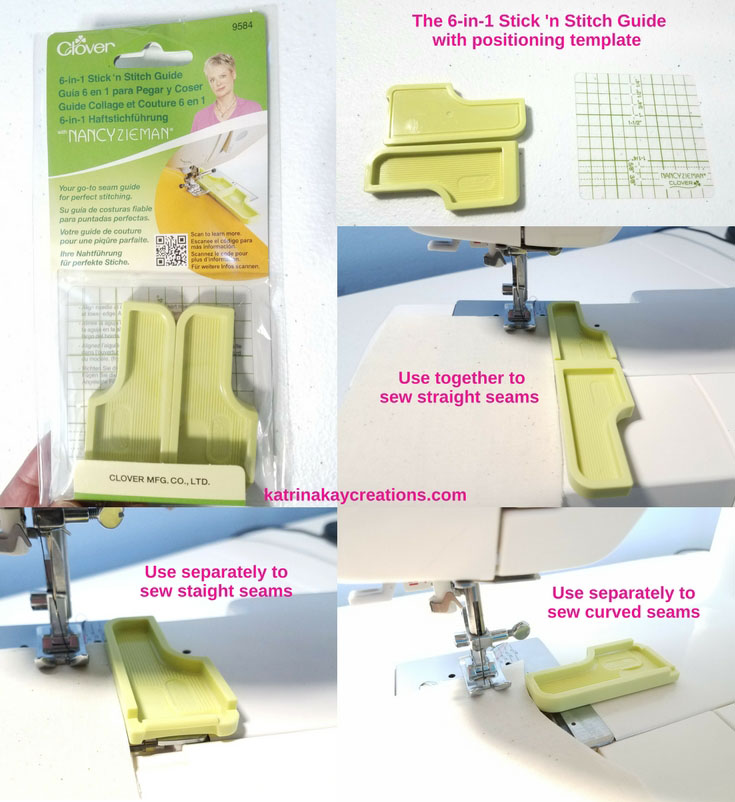 4. Painter's Tape
Painter's tape makes for a bold colored seam guide. You may even have some already, like I do. It's much easier to see than the guidelines on your throat plate. It also comes in different widths if you don't want it as wide as the one I have pictured.
Washi tape will probably work, too. And it comes in all those prestty colors and designs.
You can also mark on the tape where you want to focus while sewing so you're not looking at the machine needle.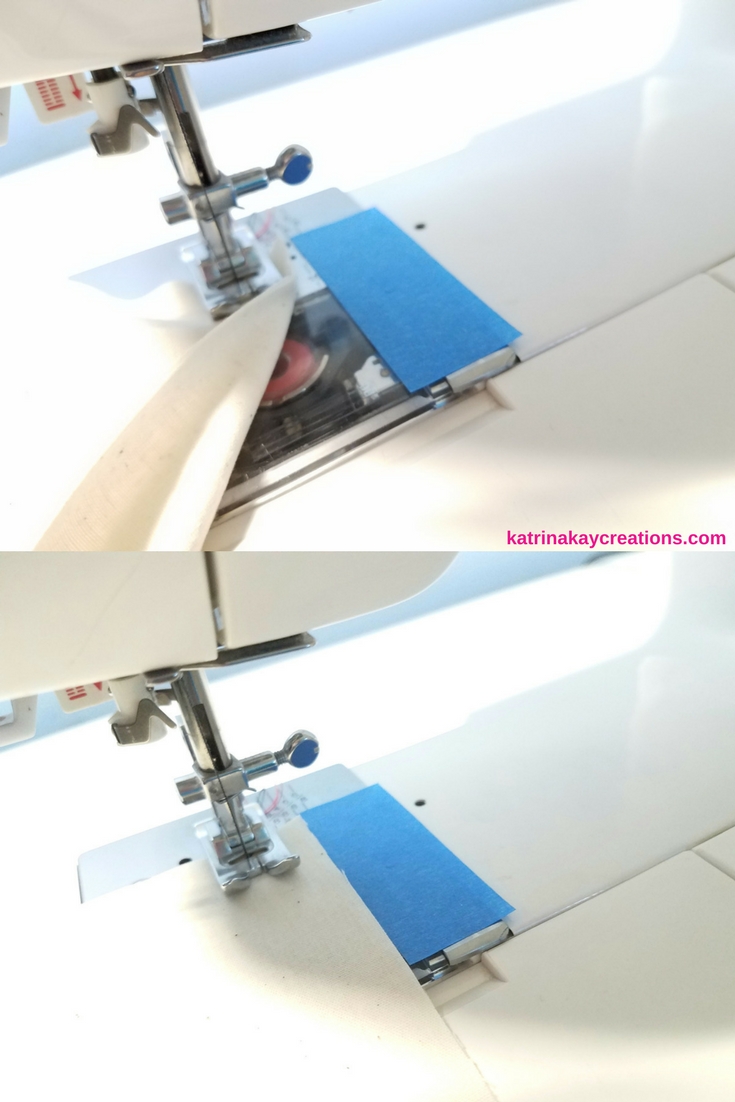 Have you used any of these seam guides? Which was your favorite? Let me know in the comments.
---