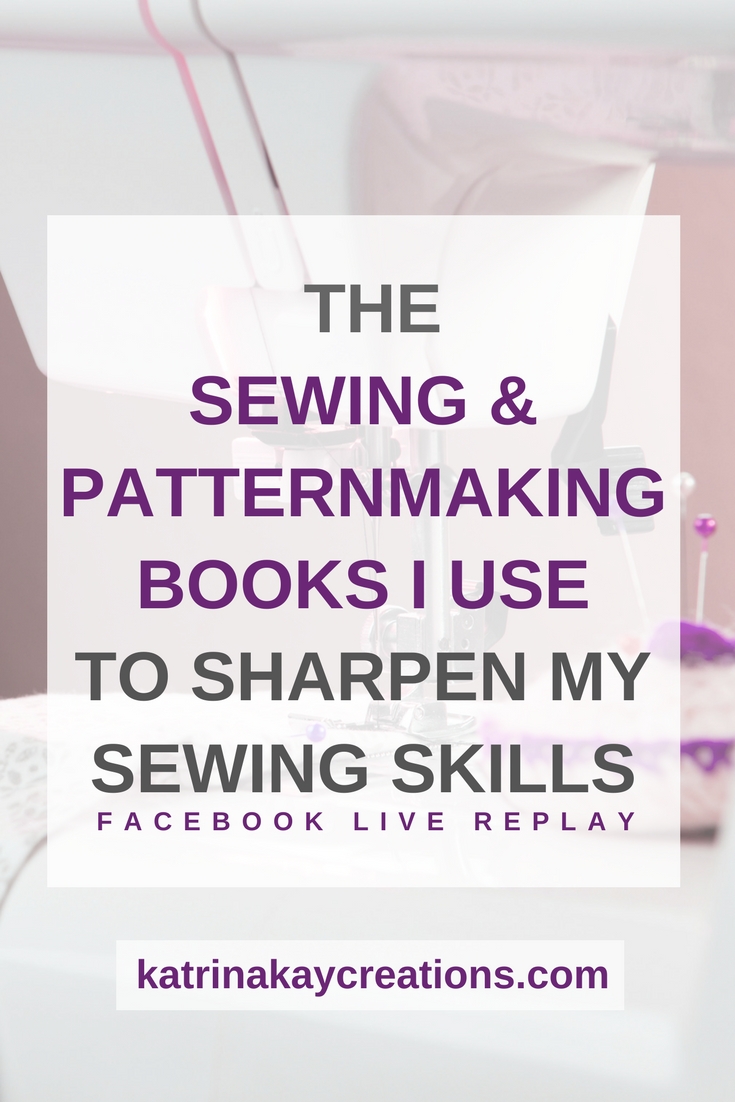 Have you ever gotten stuck in the middle of your sewing project because you didn't understand the instructions or you just couldn't seem to figure out a particular sewing technique right? That's the time you need a good sewing reference book right by your sewing machine that you can pick up and use in the moment. Today, I'm going to show you the sewing & patternmaking books I use to sharpen my sewing skills.
I am an Amazon affiliate for some of these books, which means if you purchase through my link, I'll get a percentage of the sale. They're indicated with an asterisk (*) next to the title. At the time of writing this post, some books were not available on Amazon, but may be available elsewhere. I am only an affiliate for Amazon at this time. 
I own an older edition of all the books below so I've included a picture of my edition and a picture of the latest edition for each book.
The sewing & patternmaking books listed below are some of the books I love, but there are not the only books available that cover these topics.
This is a great reference book because it covers sewing from a-z. It covers mostly garment sewing but does have a section on sewing for the home.
I recommend this book for anyone who is a beginner and knows nothing or very little about sewing. But an experienced sewist will benefit from this book also. It is a great sewing reference book.
The Reader's Digest Complete Guide to Sewing has lists and color images of sewing supplies/tools and the sewing machine. It gives you the information you need to start your sewing journey.
This book also has color images and descriptions for different types of fabrics from a-z.
The book covers specific sewing techniques like sew pleats, darts, gathers and waistline finishes, just to name a few.
Of all the sewing & patternmaking books I mention in this post, this is one of my favorite for sewing beginners but also as a reference book that can be used for years to come.
The Vogue/Butterick Step-by-Step-Guide to Sewing Techniques cover specific sewing techniques from appliques to zippers. It will show you how to sew any technique you can think of.
For example, this book doesn't just show you how to sew one type of zipper technique. It shows you how to sew a centered zipper, lapped zipper, mock fly zipper and a separating zipper (used for coats and outer wear).
It covers every sewing technique you would encounter in sewing various types of garments.
If you want to practice sewing a certain technique before you actually make your entire garment, this book will show you how.
If you need detailed information when it comes to fabric, Claire Shaeffer's book is for you. Her book covers both woven fabric and knits. It also covers leathers and synthetic suedes.
The Fabric Sewing Guide also talks about the fabric's characteristics and gives stitching tips. It goes over best practices for layout, cutting and marking the fabric. It gives stitching tips and suggestions for sewing the seams, what type of hems to use and edge finishes.
What I find really helpful is the suggested interfacings and linings for various fabrics. This takes the guess work out of choosing the right interfacing for your garment.
The book is divided into the following sections:
Part One: Fiber Content (natural and manmade fabrics)
Part Two: Fabric Structure (woven, knits, stretch-woven fabrics)
Part Three: Surface Characteristics: (transparent, special occasion, napped and piled fabrics and more)
Part Four: Linings and Interfacings
Part Five: Sewing Techniques (instructions for seam finishes, hem finishes, edge finishes, closures and more)
Part Six: Fabric and Fiber Dictionary
This book is my go-to book for patternmaking. Her illustrations make her instructions clear and easy to understand.
In Patternmaking Made Easy, Connie Crawford shows you how to draft your own patterns based on the measurements of a dress form. But if you have a dress form double, you could use your own dress form.
She shows you how to make slopers and patterns for skirts, pants, tops and more.
Patternmaking Made Easy is one of the few patternmaking books that show you how to balance a pattern. I didn't learn pattern balance in school at all, which is a very important of properly fitting a pattern. To find out more about balancing a pattern click HERE or HERE.
Connie Crawford also sells her own patterns which go up to size 6X. She understands the plus size body. Unlike some commercial pattern companies, she uses a plus size fit model (model used for fitting pattern muslins before producing the patterns) instead of using a size 10 fit model and grading up to plus sizes.
The best place to get Patternmaking Made Easy is from Connie Crawford's website.
I've had this book for years and somehow forgot I had it until someone in my Facebook group, The Sewing Curve, mentioned it.
This book is just as the title says, a fitting and pattern alteration book. The authors show you multiple ways to alter a commercial pattern.
Fitting & Pattern Alteration has chapters like: "Evaluating the Figure", "Selecting Patterns" and "Recognizing the Correct Fit" before you get to pattern alteration. It's a lot of reading but it educates you on the basics of the body and fitting first. This information will benefit the sewing beginner as well as the experienced seamstress.
It even covers having an asymmetrical body, which will definitely affect how a pattern fits. It also covers body posture, which is also worth paying attention to when trying to fit a pattern.
This is definitely the kind of book you can refer to when you need help with a particular alteration. But to get the most benefit out of it, don't skip the beginning chapters. They really go in depth about figure evaluation and fitting that may help you understand your fitting challenges.
I bought Sew Smart at a sewing conference that I attended years ago. I was able to take a class with Clotilde and get my book signed, which was so exciting to me because I was a big fan of her catalog of sewing tools.
Sew Smart covers professional methods for the custom look, as it says on the cover of the book. According to the authors, the goal of the book is to "help you achieve the professional sewing results you have always wanted for knits and woven fabrics plus information necessary to help you create beautiful Ultra Suede fabric clothes."
It has a chapter on darts that teaches you about the types of darts, dart placement, dart construction and gives you tips for sewing darts. The book does the same for facings, collars, sleeves, pockets, zippers (including invisible zippers) and more.
Again, these are just some of the sewing & patternmaking books I use to sharpen my skills. That's the thing about sewing & patternmaking, no matter how much experience you have, you're always learning new things or how to do things better.
The video below is an edited replay version of the Facebook LIVE I did about these books. To see the unedited version (Video 2), click HERE.
Do you have any favorite sewing & patternmaking books? I would love to hear about them in the comments.
---