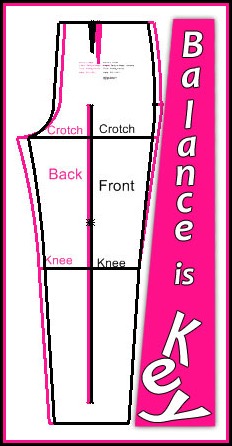 We all know the 1st step to a plus size pants pattern that fits your curves is taking accurate body measurements. There are tutorials, videos, books and blogs that stress this everyday.
And it should be emphasized because even if you have the best sewing skills, if your measurements are wrong your pattern still won't fit.
There are other important steps you should take to make sure your pattern fits. One key step to any well fitting sewing pattern is balance.
Why do I stress balancing your patterns so much? Because…
I almost lost my patternmaking job over unbalanced sewing patterns!
When I worked for Simplicity Patterns, they gave me 3 months to improve my patternmaking skills or I would be out of a job. I wasn't meeting deadlines because I made so many adjustments without knowing what the real problem was. All those patternmaking classes I had in school never taught anything about balancing patterns, so my patternmaking skills did not meet Simplicity's standards-in the beginning. 
Well, I didn't lose my job because I had a skilled coworker who was patient enough to teach me what I needed to know about balancing patterns and now I want to share that with you.
What does balancing your plus size pants pattern mean?
The front and back pieces when matched (from the hem, up) at the side seams and inseams are the same shape and length 

The knee levels and crotch levels are in the same position on both pieces

Numbers 1 & 2 are accomplished when the grainlines on the front piece and back piece are parallel to each other
Commercial patterns should already be balanced, but after any alterations it's always good to double check them.
Watch the short video below where I give you a step-by-step tutorial on how to balance your plus size pants pattern.
If you haven't read my blog post on how to balance your plus size (bodice) sewing pattern, you should check it out and watch that video also.
Do you have any tips, questions or comments? I'd love to hear them in the comments below.