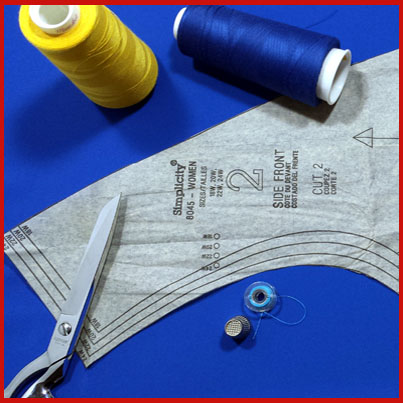 Yes, knowing how to calculate the wearing ease for a better fitting plus size pattern is necessary. Why, you ask? Because pattern companies put extra wearing ease in their patterns so that they will fit a wide range of women who are the same size. They know that every woman who is a size 20W does not have the same shape or build, so the extra ease is added to allow for any alterations that need to be made.
***Note*** This is mainly for woven fabrics. Knit fabrics are totally different because they stretch, so little to no ease is needed.
What is wearing ease? Simplicity Patterns defines wearing ease as the difference between your body measurement and the finished garment measurement at the same body part. Wearing ease is what allows you to move in your clothes without splitting your seams.
Finished garment measurements are what your garment measures at the bust, waist and hip when it is sewn together without any changes to the pattern.
You determine what amount of wearing ease you need in your garment to feel comfortable, no one can determine that for you.
When you have more wearing ease in your pattern than you want or need, it creates additional fitting problems for you. How?
It makes your garment too big for your body, which masks or covers up any other fitting problems your garment may have.
Not removing excess wearing ease before making your garment from muslin or your fashion fabric causes you extra work. Either you have to create another fitting muslin just to make sure it's comfortable and fits the way you want it to, or you have to make alterations to it after it's sewn in your fashion fabric.
These problems can be eliminated by calculating how much wearing ease is in your plus size pattern, how much you actually want and how much you need to remove or, in some cases, add. You have to add ease to your pattern if you prefer more moving room than the pattern provides.
Where are the Finished Garment Measurements Listed?
The finished garment measurements are listed on the front pattern piece, regardless of the garment type. If your pattern has a center front and a side front, the finished garment measurements are usually listed on the side front pattern piece.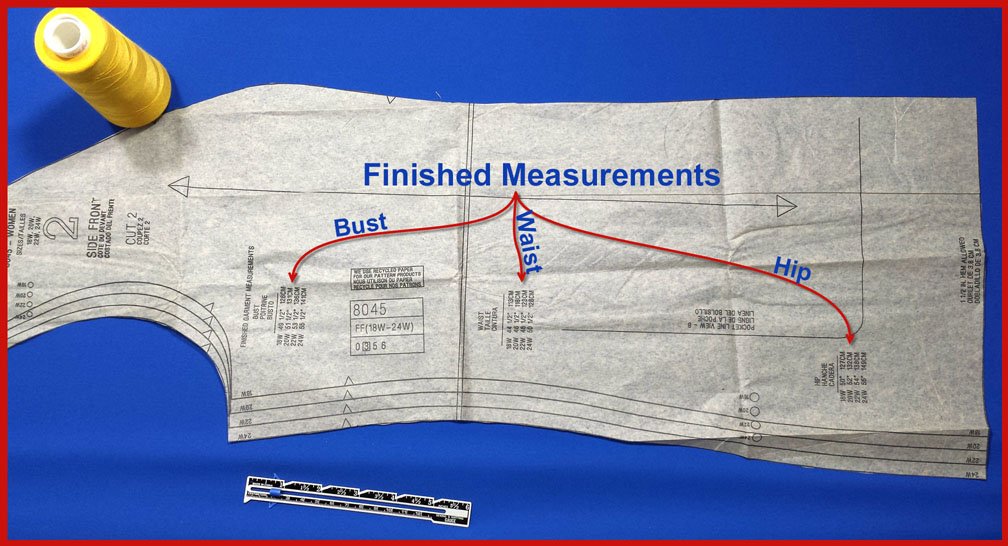 What specific finished garment measurements are included on the front pattern piece?
The specific finished measurements on the front pattern piece are:
Bust
Waist
Hip
The finished measurement is listed for each size included in your pattern.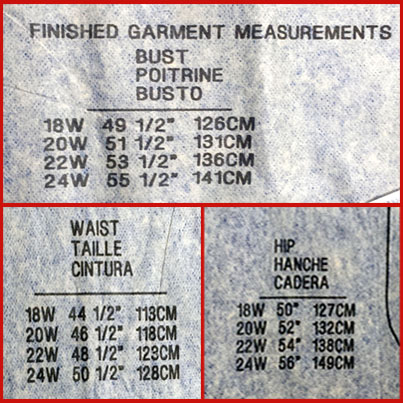 Here's the Formula For Calculating Wearing Ease
The finished garment measurement (FM) – your body measurement (YM) = wearing ease (WE)
OR
FM – YM = WE
Below is an example using the size 18W finished measurements from my pattern piece above.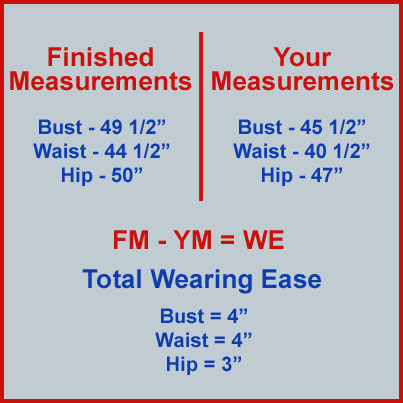 Now, let's say for the sake of example, you only want 2″ wearing ease in your bust, waist and hip. You would then need to remove the following:
Bust: -2″
Waist: -2″
Hip: – 1″
You would remove the excess ease just like you would remove any extra inches. From the side seam of your bust and waist you would take out 1/2″ (2″ divided by 4) and from the hip you would take out 1/4″ (1″ divided by 4).
If you have any questions, please leave a comment below. I didn't do a video on this but if you would like me to, let me know in the comments also.