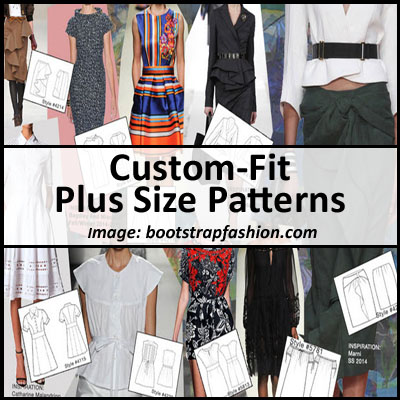 Whenever I find a resource for plus size patterns, I like to let you all know about it. That's not to say that some of you don't already know, but just in case, I don't mind sharing. I stumbled across this Web site by accident while looking for something else. (Isn't that how it always happens?) They have royalty free digital patterns for individual and commercial use. If you're trying to start your own pattern/fashion clothing line or you just want custom-fit plus size patterns but don't want to draft them yourself, Bootstrap Fashion may be an option for you.
Boot Strap Fashion doesn't sell custom-fit patterns to plus size women only, in fact, their measurement ranges are:
Bust (17″-58″)
Underbust (17″-58″)
Waist (16″-56″) 
Low Hip (18″-56″)
You can save your measurements in their system and whenever you order future patterns they always give you the option to use your saved measurements.
The styles they offer are based on fashion runway trends and while some may not be suitable for the plus size figure, they do offer a lot of styles.  They even have a gallery of customers showing off their creations, which includes a small number of plus size women.
The patterns costs $10 $3.49 (as of the date of this update) and can be printed on your home printer or a plotter.
According to their Web site, here's how it works:
1. Choose your pattern from their collection
2. Measure yourself or the person you are sewing for
3. Enter the measurements or use measurements you've already saved
4. When your purchase is completed, the pattern will be emailed to you in 15-30 minutes
5. Print and assemble the pattern or it can be imported to Adobe Illustrator or a professional computer- aided design (CAD) system
So, for those of you who would rather eat rocks than draft your own custom-fit plus size patterns, this is an inexpensive way to have it done for you. And while no one can guarantee you a perfect fit, anything that eliminates multiple or complicated alterations is definitely a plus!