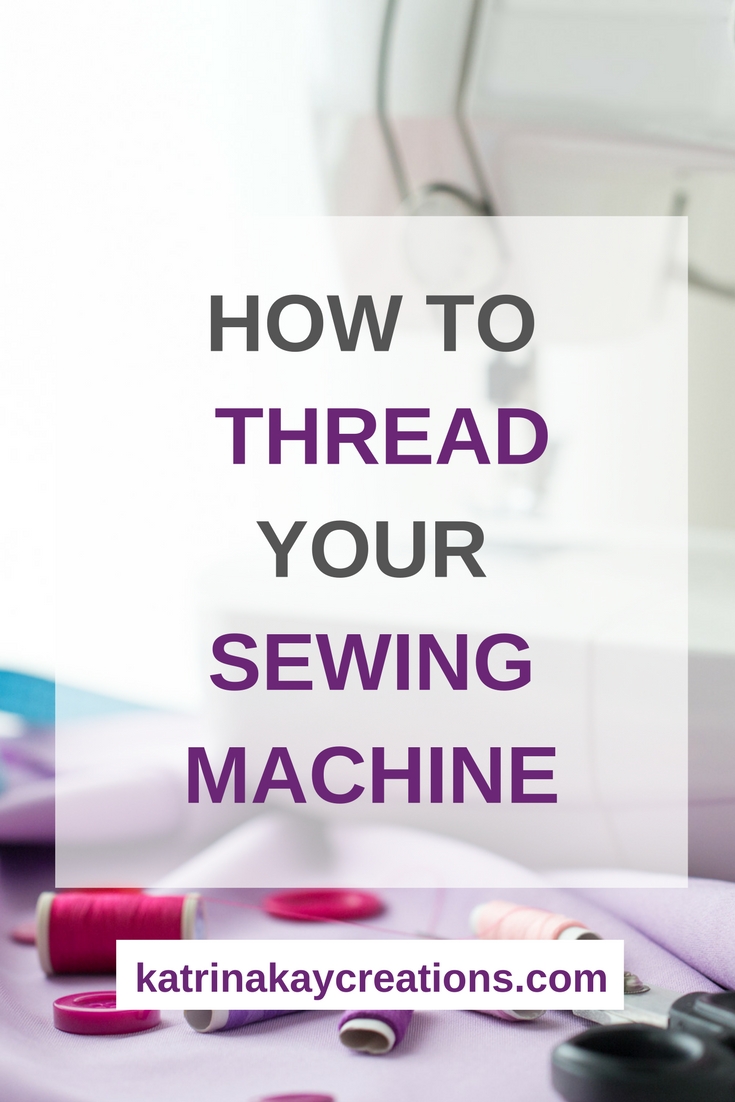 When you're just starting to sew, threading a sewing machine can be intimidating. Having a sewing machine manual doesn't guarantee there'll be no stitching problems to fix. This can be frustrating. To help you avoid some frustration I'll be giving you some tips on winding your bobbin, threading your sewing machine and threading your bobbin. If you're a sewing beginner using a machine with or without a manual and you're having a little trouble threading it, this post is for you. Today, I'll be showing you 2 types of guides that will help you thread your sewing machine right.
There are 2 types of guides that are there to help you thread your sewing machine:
1. Thread Guides
Letting the thread guides, umm…guide you, can be tricky because some of them look like screws or hooks that hold the sewing machine together. As a result, you may miss them while threading. But most sewing machines hide the nuts and bolts that hold them together.
There are thread guides for winding your bobbin and threading your sewing machine.
Try sliding thread around or through the screw/hook. If it slides easily, it's most likely there to hold and guide your thread during the sewing process.
Some thread guides are a little difficult to see, but they still thread very easily.
The needle area is where you can easily miss a thread guide. In fact, there may be one or more thread guides. They're usually easy to thread. It's just a matter of sliding the thread around the guide and pulling left or right or forward.
Moving your thread through each area of the sewing machine and paying close attention to every screw, hook or area that looks like some type of hardware of the machine will help you thread it correctly.
Thread guides left unthreaded may cause problems with your machine's stitching. You can make sure everthing's threaded right by sewing a few stitches on a piece of scap fabric.
2. Diagram Guides (On the sewing machine)
My very basic computerized machine, has instructional drawings throughout the threading and bobbin winding process. They're next to the area you're working on so you can see them at a glance.
In some places your sewing machine may have both a thread guide and a diagram guide.
Some machines have an illustrated diagrams like my aunt's sewing machine, and some have embossed diagrams like my sewing machine.
Finding the right bobbin for your sewing machine
Without a manual, figuring out what type of bobbin your machine uses can be tricky. Below are some ways to do this.
First, go to your sewing machine brand's Web site and look up bobbins. For each bobbin style, they should have a list of machine models that bobbin is compatible with. If your sewing machine model is on that list, then you know what type of bobbin you need.
If you still can't find your machine model, try contacting their support team. They may be able to help you find the bobbin suitable for your sewing machine.
Second, look at sewing machines that are the same brand and close to the model number of your machine. Your sewing machine company may have made several models that use the same bobbin.
Third, if you have a reputable sewing machine store or dealer near you, take pictures of your machine and write down the brand and model number. Or try taking your sewing machine to a Sew & Vac store. They may be able to help you find the bobbin you need.
Fourth, you can also go to your local fabric store and look on the bobbin packaging. There should be a list of sewing machine brands and models that the bobbin is compatible with. If your machine is compatible it will be listed.
How to Wind a Bobbin
Before starting any sewing project, wind your bobbin(s). Wind more than one depending on the size of your project.

How to Thread a Sewing Machine 
After winding your bobbin(s), you can thread your sewing machine. Remember to be safe and unplug your sewing machine pedal from the machine, especially when you're threading the needle. We don't want any accidents.

How to Thread Your Bobbin
You're now ready to thread your bobbin.

Test your threading by stitching on a piece of scrap fabric. You'll be able to tell by the stitching if your machine's threaded right.
Troubleshooting
Pooling of thread on the underside of your seam – Check your bobbin. If it unwinds on it's own it's wound too loose. Make sure you loaded into your bobbin case with the thread unwinding counter-clockwise.
Bobbin threads show on the top side of your seam – The bobbin tension may be to loose or your sewing machine tension may be too loose. There should be a dial on your sewing machine to adjust the machine tension. The bobbin tension can be adjusted with a small machine screw driver (they come with some sewing machines and sergers.) Refer to your sewing machine manual for adjustments. Also, the machine could be threaded wrong. Make sure you didn't miss any thread guides.
Skipped stitches – Check to see if you needle needs to be changed or for any missed thread guides.
Online Resources for Sewing Machine Manuals
Even if you've been able to correctly thread your sewing machine, you may want your machine's manual to see all the features it has. Below I've listed 4 resources where you may be able to find a manual for your sewing machine. Of course, depending on the age of your sewing machine, there are no guarantees. It certainly won't hurt to look, though.
Most model number's are on the back of your sewing machine. This may vary by brand.
Check your sewing machine brand's Web site. Their manuals, if they offer any, may or may not be free.
Sewing Parts Online: At the time of this writing, Sewing Machine Parts Online has instruction manuals for 17 different sewing machine brands. Sewing Parts Online's manuals are not free.
EBay:  You can type your machine's brand name, model number and "instruction manual in the search on eBay. Some manuals are offered as a .PDF file on a CD. The prices of the manuals vary by seller.
Sew USA: Go to the bottom of the page and choose the brand you're looking for. At the time of this writing, Sew USA has instruction manuals for 49 different sewing machine brands.
Some Web sites you find may look very dated. If you're not sure you want to do business with them, send them an email and see if you get a response.
If you were too intimidated to thread your sewing machine and haven't taken it out of the box or off the shelf, I hope this blog post has given you the courage to tackle threading it head on.
Have you ever been too intimidated or frustrated to thread your sewing machine, with or without a manual? How were you able to figure it out? Let me know in the comments.
---