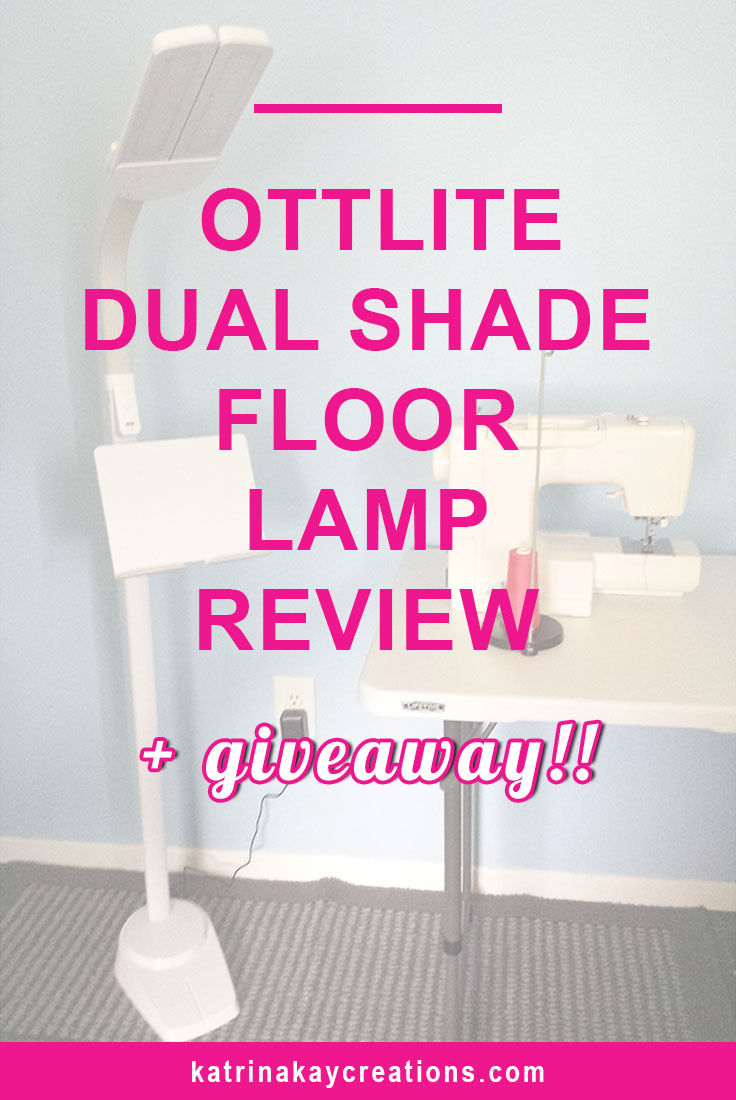 I received a free floor lamp from OttLite in exchange for writing this review. Although this post is sponsored, all opinions are my own.   
**GIVEAWAY CLOSED**
And the winner is… Sandra Woerner!
My home was built in 1959. The only overhead lights exist in the dining room (chandelier), kitchen and bathrooms.
My sewing room has no overhead lighting, so all my lighting comes from lamps. I haven't always sewn in the best light, I'll admit. It's been more like a "this light will do until I can do better" situation. This works fine during the day, but when the sun goes down, let the eyestrain begin.
When I turned 50 last year, so did my eyes. I'd never needed progressive lenses before, (a nice way of saying "bifocals") but now I do. This has made lighting more of an issue, especially in the sewing room. I'm constantly trying to put my head in the right position so I can see what I'm doing. I didn't know how good I had it when I was only nearsighted.
When OttLite gave me the opportunity to review one of their floor lamps, I was glad to do it. I've desired one of their lamps for years, but had grown comfortable with my "that'll do" lighting. Their product was already familiar to me so I was glad to try it for myself.
They really got my attention because they cater to people who sew. They understand our lighting pain! Okay, that was a little dramatic, but you know what I mean.
The floor lamp they sent me, in my opinion, is perfect for those of us who sew. Not only is the lighting excellent, (3 settings people!), but the added creature comforts are very useful.
And I'm so excited because OttLite is giving away a floor lamp to one of my lucky readers! That means you! I'll talk more about that later, so keep reading. Tee, hee, hee!
The OttLite Dual Shade LED Floor Lamp with USB Charging Station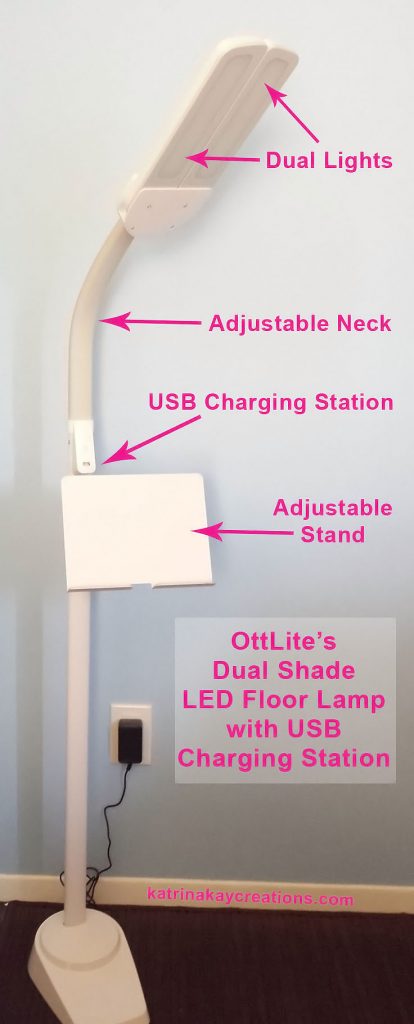 You can find the lamp I'm reviewing on OttLite's Web site here.
Dual Lighting
I love the dual LED lights. Two lights are definitely better than one. And they move, which is great because you can direct the light where you need it and cover a large area. Also, because they're LED lights they're less likely to overheat if you have to pull an all-nighter in your sewing room. Or am I the only one who does that?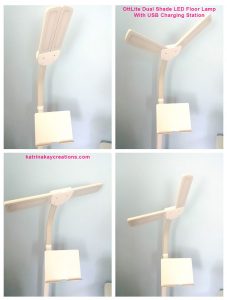 The lamp is at its brightest when turned on. A gentle tap of the power button makes it dim, dimmer and dimmest. You can use as much or as little light as you need. This means on a cloudy day or when the sun's going down your lamp won't have to be on full blast.
The photos below were taken on cloudy days. This room is brightest before 12 noon on a sunny day. On cloudy days, it's pretty dim. In the first photo, it's about 6 in the evening and the OttLite lamp is on its highest setting. In the second photo, it's about 2 in the afternoon and the light is on its lowest setting.
The neck of the floor lamp is also adjustable and very flexible. It moves up or down very easily. Between the adjustable neck and the moveable lights, I'm able to get my lighting just right for these 50 year old eyes of mine.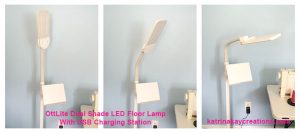 Adjustable Stand
There are no lamps in my house that will hold my pattern directions, smart phone, sewing magazine or tablet. The adjustable stand on OttLite's floor lamp does.
When using the floor lamp next to your sewing machine, you can adjust the stand to your level to hold your sewing instructions.
Can I tell you how many times my sewing instructions have gotten lost under pattern pieces right next to my sewing machine? Too many times to count. With this OttLite floor lamp, my sewing instructions have their own space.
The adjustable stand makes following sewing instructions from your favorite magazine a piece of cake. Just use a paper clip to keep it open, fold the cover back and sit in on the stand.
And if you're following a video tutorial on YouTube, you'll have it right at your fingertips to press pause whenever you need to. There's no need to make room for a smart phone or tablet next to your sewing machine. Your device will be out of harm's way and within reach.
The adjustable stand can easily move up or down with just the turn of a screw. The arm that holds the stand and the stand itself also swivels left and right.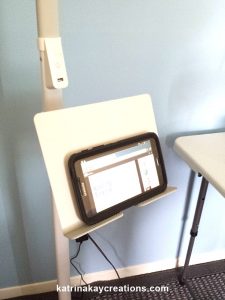 USB Charging Station
The USB charging station has to be one of my favorite features of OttLite's floor lamp.
Remember I mentioned limited lighting in my house. Guess what else is limited? Electrical outlets! I have a power strip to house the many things I need to plug in at my desk alone.
When I'm using my phone, or the tablet I borrowed from my brother, on the lamp's adjustable stand, I can conveniently recharge them without searching for an available outlet. The lamp doesn't have to be on, just plugged in.
I don't have to stop my sewing project because my phone or tablet is charging across the room.
I've noticed with some universal chargers, they either recharge your device slowly or once recharged your battery runs down fast. Not with the OttLite floor lamp. It charges fast and lasts just as long as my phone's original charger.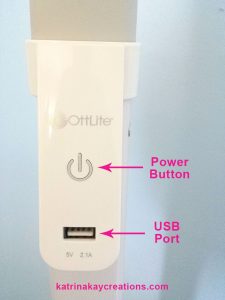 What I thought I could use the floor lamp for, but won't…
I thought I'd also be able to use the lamp at my cutting table, but I won't. My sewing machine is on the opposite side of the room and the floor lamp base is heavy. While I can move it with some effort, for now it will stay next to my sewing machine where it'll benefit me the most. On the bright side, it will never tip over. And it's unlikely to be "borrowed" from my sewing room, like my scissors and straight pins. Just sayin'.
One more thing before I talk about the giveaway…
I've found one more use for my OttLite Floor Lamp.
My video tutorials!
I'm always thinking about how I can make videos better and faster. (The OttLite helps with the better, now if I could just find something to help with the faster.)
Lighting has always been a challenge because I don't have a lot of space in my sewing room. And the fact that I'm not a professional photographer or videographer, not by a long shot. I'm always fighting with the lights to get the best angles and make sure it's not too bright or too dim.
And I still hadn't figured out how to maneuver 2 lights clamped to 2 tripods and a camera up close to my sewing machine.
The OttLite floor lamp with its adjustable everything will give me all the light I need to film tutorials at my sewing machine while taking far less space.
So not only do I benefit from this good lighting, if you watch my tutorials, you will too!
Overall, I'm very happy with the OttLite Dual Shade Floor Lamp. It's a welcome addition to my sewing room!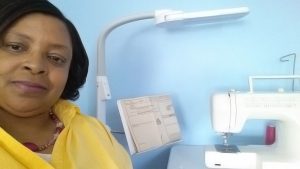 I received a free floor lamp from OttLite in exchange for writing this review. Although this post is sponsored, all opinions are my own.   
---
**GIVEAWAY CLOSED**
And the winner is… Sandra Woerner!
Win Your Very Own OttLite Dual Shade LED Floor Lamp with USB Charging Station!
That's right! You can win this OttLite floor lamp for your sewing space.
OttLite has generously offered to give this floor lamp to one of my readers. And that reader could be you! Wouldn't this be a perfect Post-Mother's Day gift?
 To Enter:  (Must have a U.S. Address)
Leave a comment below sharing which feature of this OttLite Floor Lamp you like most.
Enter your email in the comment form so I can notify you if you win. (Your email will only be visible to me.)
That. Is. All.
Giveaway closes on Sunday, May 21st at 11:59 PM.
The winner will be randomly chosen and announced on Monday, May 22nd.
If the winner doesn't respond within 48 hours, a new winner will be chosen.
Don't forget to leave a comment below to enter the Giveaway!
**GIVEAWAY CLOSED**