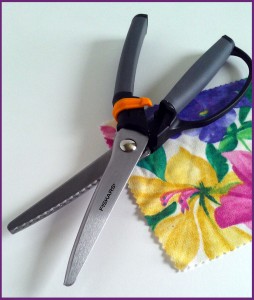 Recently, I needed to buy a pair of left handed pinking shears.  I needed them to cut 200 5"x 5" fabric squares.  If you're left handed, you know that stores don't carry an abundance of left handed scissors of any kind and I definitely didn't have time to order any online.
Even though I didn't have time to wait for an order, I decided to check my local craft and fabric stores online so I wouldn't waste my gas going to a store that didn't have what I was looking for.
To my disappointment, AC Moore didn't have any left handed pinking shears.  I knew cutting with right handed shears was not an option because not only do they hurt my hand but they also don't cut correctly. 
Thankfully, JoAnn Fabrics carries the Fiskars Softouch 10″ Pinking Shears (pictured above) that left or right handed people can use successfully.  Because I have their regular shears I was hopeful they would work.  They cost $42.99 but I had a 50% off AC Moore coupon which JoAnn Fabrics* did honor (yay!).
I highly recommend Fiskars Softouch 10" Pinking Shears and no, I am not an affiliate.  Although they only got 2 good reviews out of 5 on JoAnn Fabrics' Web site, I recommend them because I had no problem using them and after cutting 200 squares, the cut quality didn't change.   
The only mistake I made was cutting most of the squares within a 24 hour period.  Bad idea.  Cutting that much fabric or squares will take a toll on anyone's hand, regardless of the pinking shears' brand.  In the future I'll spread out the cutting over a few days to eliminate hand soreness and fatigue.
Do you have some great left handed products-sewing or otherwise-you love?  Let me know in the comments.
*JoAnn Fabrics will not honor AC Moore coupons on items (such as fabric) that AC Moore does not sell.